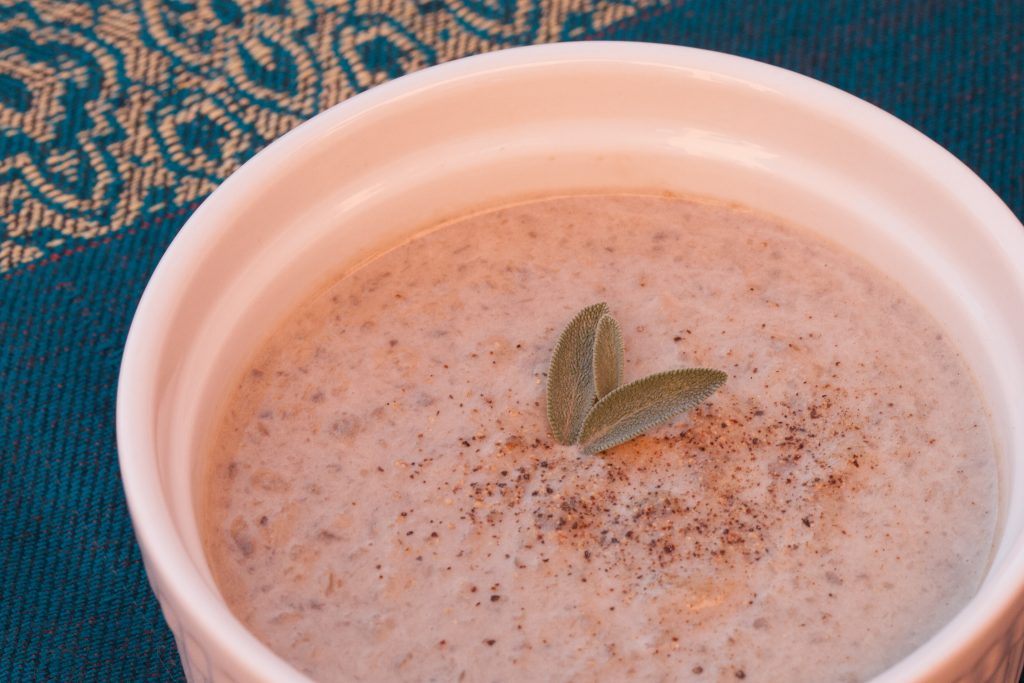 I'd probably grow Jerusalem artichokes (Helianthus tuberosus) even if they weren't delicious, because the flowers are sunny and pretty to look at, and they grow wonderfully with no help from me. Lucky for all of us, the tubers are also super tasty and the plants actually benefit from being dug up and divided at the end of the growing season. If you don't want to grow your own, you can find Jerusalem artichokes (aka sunchokes) at your local farmers' market or grocery store starting in mid-fall. They're a versatile vegetable and I use them lots of ways, but my favorite recipe is for roasted sunchoke soup. There's nothing better on a cool autumn day.
What You'll Need to Make Roasted Sunchoke Soup
3 cups cubed (1″) Jerusalem artichokes
1 medium, yellow onion, peeled and cut into 1″ chunks
drizzle of olive oil
salt and pepper
2 cups chicken (or vegetable) stock
1/2 cup cream
garnish (sage or chives)
What You'll Do to Make Roasted Sunchoke Soup
No need to peel the sunchokes. Just wash them well and cut them into cubes of roughly one inch. Peel the onion and cut it into one inch chunks. Toss the vegetables in a drizzle of olive oil with a pinch of salt and pepper, then spread them on a cookie sheet and roast in a 375F oven for approximately 20 minutes. You want the onions to start to sweeten and brown but not to turn crispy and black. Remove the roasted vegetables from the oven and transfer them to a saucepan.
Add the stock to the roasted vegetables and bring them to a boil. Cover and reduce heat to a high simmer, cooking until the sunchokes are easily mashed with a fork. This should take 5 – 10 minutes.
Allow the mixture to cool, then purée, either with an immersion blender, a food processor, or a blender. Return the purée to the saucepan and stir in the cream and 1/4 teaspoon of salt. Re-heat the soup but do not let it boil
Serve immediately with a grind of fresh pepper and the herbal garnish of your choice. Because sunchokes are a fall crop for me, I like to pair them with sage, and herb that tastes like autumn with its rich, spicy flavor.