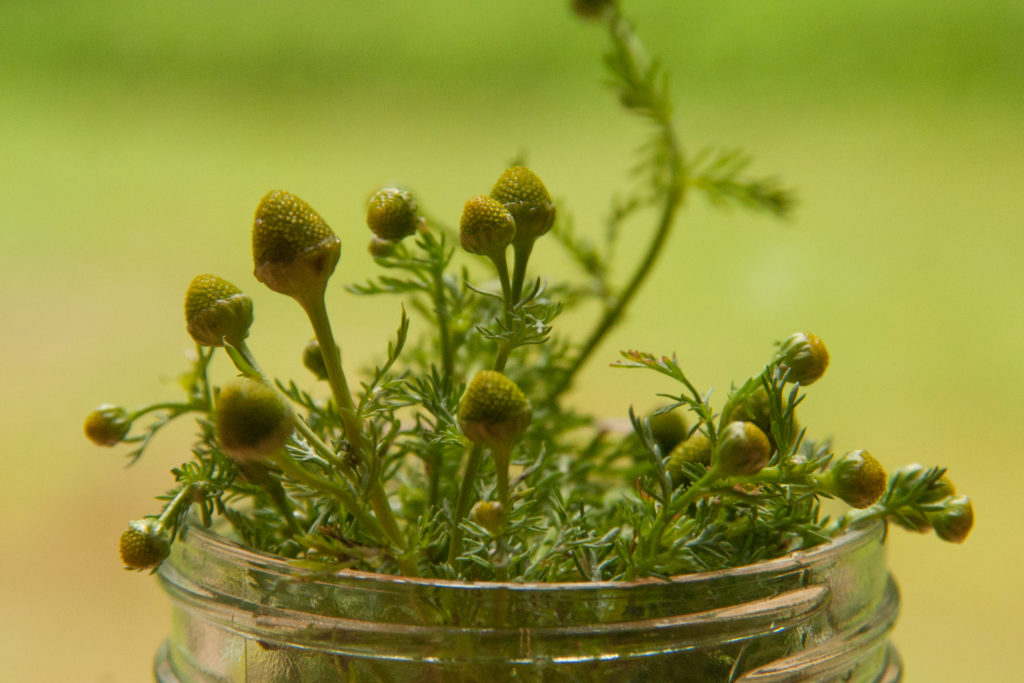 Nobody plants pineapple weed. I've never seen seeds for sale. But it's a welcome sight and smell wherever it crops up, and it crops up everywhere. It grows from north of the Arctic Circle, all the way down to southern California, and across almost the entire country. Pineapple weed grows in lawns, gravel driveways, and neglected spaces. It's not bad to look at either, with feathery, finely cut leaves and prolific, small yellow-green flowers.
Related to chamomile, pineapple weed has an enticing scent. The easiest way to identify the plant is to crush a flower between your fingers. If you don't immediately smell the sweet scent of pineapple, you've got the wrong plant.
Pineapple weed is in the daisy family (Compositaceae). Most members of this plant family have composite flowers made up of ray flowers (petals) and disc flowers (tubules at the center of the flower). Pineapple weed flowers don't have petals; each bloom is composed entirely of disc flowers. As a result, their small, yellow-green, petal-less flowers are sometimes tough to see.
Ahh, but when you do see them, it's time to do your happy dance. Pineapple weed may be anywhere from two inches tall in a frequently mowed location to ten inches tall in an abandoned parking lot. Small stems can be pinched with your fingers but you may need scissors to snip thicker stems. In either case, take only the top few inches of each plant, leaving it to produce another round of flowers. Depending on how you use pineapple weed, you may harvest only the flowers or both foliage and flowers. This plant blooms reliably all summer long and you should be able to harvest enough for immediate use and also dry some to store for the future.
As a Beverage:
The most popular use for pineapple weed is as a tea. (It's not my favorite way to use it, but I feel it's my duty to let you know it's possible.) Use both leaves and flowers, either fresh or dried to make an infusion. Drying concentrates the flavor (fresh herbs can be 80-90% water) so you'll only need half as much dried herb as you'd need of the fresh. Since taste-producing volatile oils evaporate over time, try to use dried herbs within 6 – 12 months.
Pineapple weed flowers have a natural sweetness, but I still think the tea benefits from a drop of honey. It's tasty hot or iced. My favorite pineapple weed beverage is a boozy cordial. So much more interesting than tea.
As Food:
If you'd like to eat your pineapple weed, toss the fresh flowers into a green salad and watch the faces of your guests when they bite into an unexpected burst of pineapple flavor. Or mix fresh flowers into chicken salad for a sweet, fruity taste. And why not sprinkle them on top of cold sesame noodles or potato salad?
You can also use pineapple weed to make wonderful desserts. Infuse them in cream to make panna cotta, custard, or ice cream. Pineapple weed tea can easily be used as a base for sorbet or granita.
This plant won't make a meal, but it adds an interesting, unexpected accent to any number of dishes.