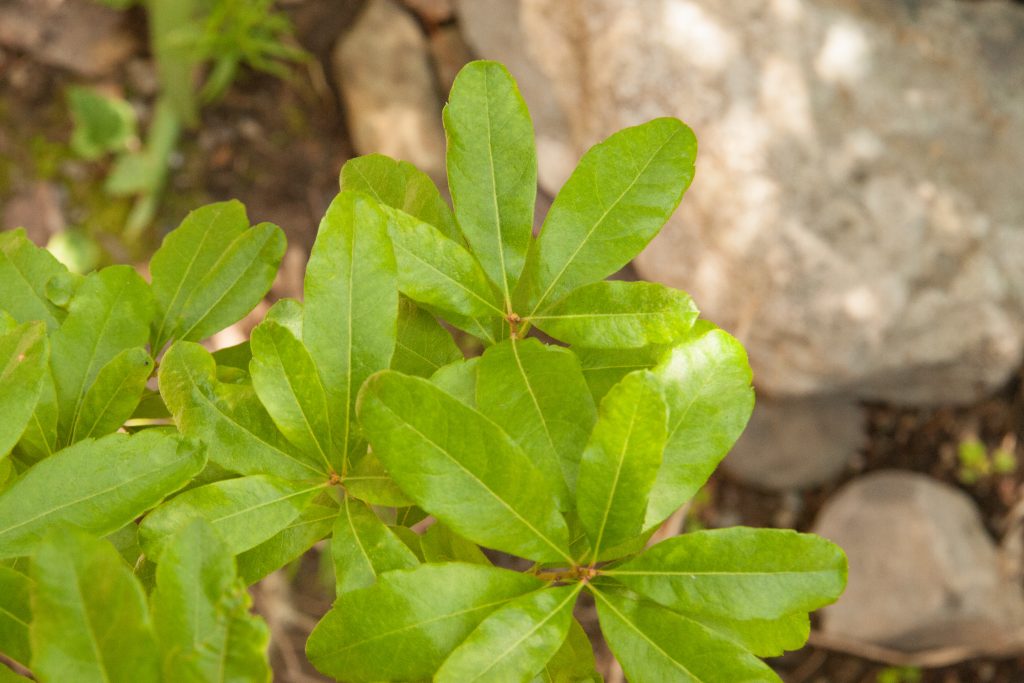 Let me start by saying that Myrica pensylvanica is not a misspelling. (Yes, I'm a bad speller, but I looked this one up.) I don't know why the botanical name is spelled with only one n when the state is spelled with two, but whoever made that mistake made it a long time ago and taxonomists are not going to go back and change it now. (Taxonomists are a stubborn bunch.) Let's just call it Pennsylvania bay leaf.
This plant is native to small pockets of the northeastern United States, although, interestingly, not in much of Pennsylvania. It's generally a coastal plant and tolerates salt spray well. I don't get to forage on the coast very often, but Pennsylvania bay leaf is an attractive plant, so I planted one in my garden. I guess that means this technically isn't a foraged herb, but the first time I harvested it was in the wild, so I still think of it as a wild edible.
The gray-blue fruits of Pennsylvania bay leaf are pretty, attract birds to the garden, and can be used in making soaps and candles. Pennsylvania bay is a dioecious plant, which means male and female flowers grow on separate plants, as with hollies. So if you're in it for the waxy berries, you'll need both a male plant (to pollinate) and a female plant (to bear fruit). I only have one bayberry in my garden, because I'm interested in flavor, not candlemaking (the waxy berries are used to make candles). Male and female shrubs produce equally flavorful foliage.
Pennsylvania bay leaf is as attractive as it is tasty. Leaves are glossy, bright green, and slightly wavy along the margins. Drying intensifies the flavor, so harvest fresh leaves, then dry them for year-round use. You can either dry individual leaves in a dehydrator at 95F, or bundle the stems together with an elastic band and hang them somewhere dry and out of direct sun. When drying is complete, store the dried bayberry leaves in a glass jar with a tight fitting lid.
You can use Pennsylvania bay leaf leaves in any recipe that calls for bay leaf (Laurus nobilis), but the flavor of Pennsylvania bay is less strong, so use twice as many leaves.