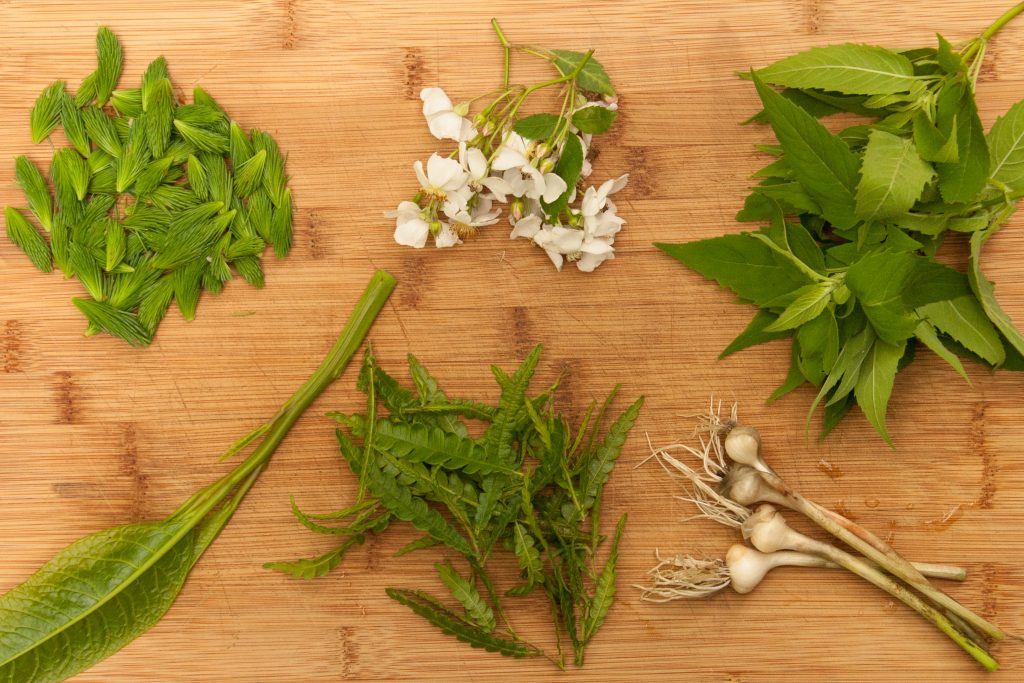 How do you get started as a forager?
If you're lucky, you learn from a friend. But not everyone has a foraging friend. So you go on foraging walks, you read everything you can get your hands on, you take classes, you watch videos, you sign up for wild foods weekends. And now you have another option: you take my beginning, online foraging course.
If you've thought about experimenting with wild foods, but you don't know how to start, this course is for you.

If you're fascinated by the idea of foraging, but the idea makes you nervous, this course is for you.

If you've heard people talk about foraging, and it sounds interesting, but you don't REALLY understand what it is, this course is for you.
I've created an online foraging course that introduces people to five super-safe, easy to identify, wild edible plants that you can find almost anywhere. It includes a 14-minute video/slide show, a set of recipe cards, a step by step guide for making acorn flour, and a handy illustrated reference chart.
When I chose the plants for this course, I wanted people to feel safe. So I chose plants with no poisonous look-alikes.

I wanted people to feel confident, so I chose plants that are easy to identify.

I wanted people to fall in love with unbuyable flavors, so I included a range of recipes from cookies to cocktails.
When you've completed this course, you'll be confident that you can safely identify and harvest five wild edible plants. My recipe cards will inspire you in the kitchen, and when you decide to make your first batch of acorn flour, you'll have my step-by-step instructions to guide you.
If you read this blog on a regular basis, you may not be a beginning forager. In which case, this class might not be right for you. But maybe it's perfect for someone you know:
a budding forager,

someone who is curious about new flavors,

someone who loves spending time outdoors,

someone who values local, seasonal, organic food,

someone who wants to be more self-sufficient.
I love being able to look around me, wherever I am, and know what I could harvest from the wild to feed myself, safely and well. I bet you'd enjoy that, too.
The course costs $9. It's definitely worth more, but I want it to be affordable and accessible for as many people as possible, so I've priced it nice and low. You can click below to see a detailed description of what you get, and once you've enrolled, you can view the materials whenever you like, in your own time frame. I hope you enjoy it.