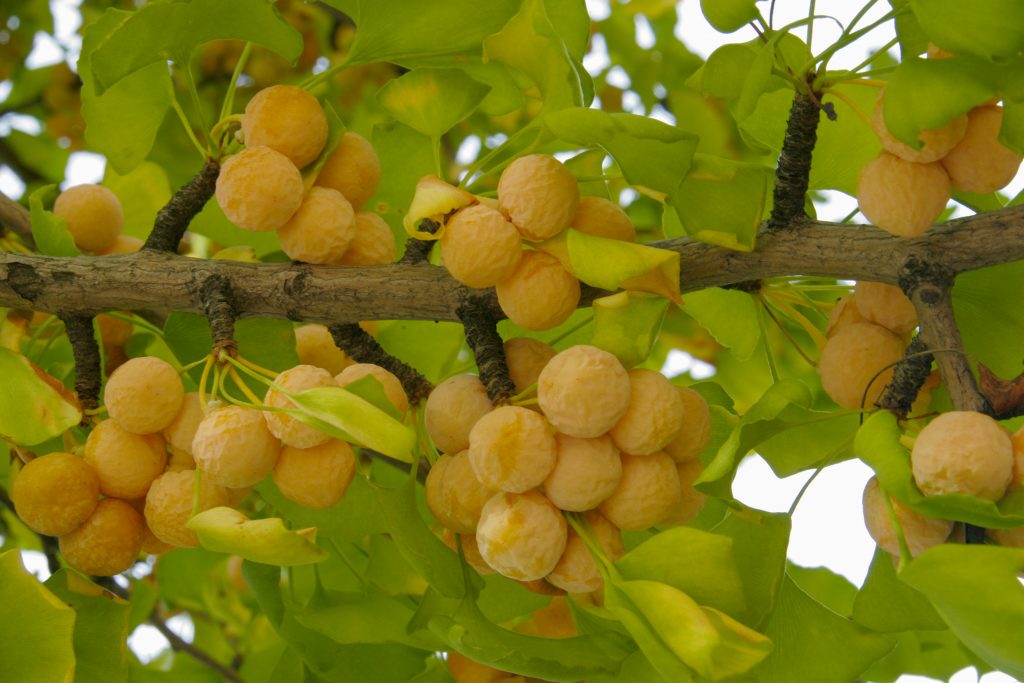 Ginkgos are gorgeous trees, most appreciated for their unusual leaf shape and brilliant yellow fall foliage. But how many of you have enjoyed the flavor of ginkgo nuts? These trees are dioecious, meaning that trees are either male or female. Without DNA analysis it's impossible to determine the sex of a tree before it reaches bearing age, which can be about ten years. Most gardeners prefer male trees, but not me. I want the ginkgo nuts! If you're lucky enough to come across a female in your wanderings, the reward can be great.
How do you know if you've found a female ginkgo? If it's fall, your nose will know. The flesh surrounding each ginkgo nut (actually a seed) smells awful. Like cheesy vomit. Really.
How to Harvest Ginkgo Nuts
Wait until the fruit (technically, fleshy cones) falls to the ground in autumn, then, wearing latex gloves, pick up the fruit and squeeze the seed into a plastic bag, leaving the smelly flesh behind. I wear gloves to keep the stink off my hands, but I've read reports of ginkgo flesh causing a skin rash. That being said, I've harvested bare-handed and never had a problem, nor have any of my foraging friends reported issues. But I feel it's my duty to inform you that rumor has it, a rash is possible. Now you can proceed with the level of caution appropriate to your personality.
Wash away any fleshy remnants clinging to the seeds. The seeds can then be frozen, in their shells, for later use. Ginkgo nuts should only be eaten cooked, not raw.
Lazy Forager's Tip: Wait until ginkgo fruit has been on the ground for a few months, then harvest the seeds once the stinky flesh has been worn away by wind and time. It's not unusual to find naked seeds in February or March, still on the ground under the trees.
how to use Ginkgo nuts
Bake the cleaned ginkgo seeds at 350°F for about fifteen minutes, then shell them. Ginkgo nut shells aren't super tough, like black walnuts or pignuts, so you can crack them with a hammer or rubber mallet. Place them between layers of dish towels to avoid smashing the nut meats and having the shells fly all over the room. Then, rub off any papery skins that cling to the nut meats.
Cooked nuts turn green, adding both visual interest and flavor to soups, rice, and noodle dishes. To fully appreciate the unadulterated taste and unique (dense and velvety) texture of ginkgo nuts, fry them briefly in oil and sprinkle with salt. These make an excellent snack with beer, sake, or wine. Ginkgo nuts are also used in traditional Asian desserts. For sweet recipes, boil shelled nuts, then add them to puddings, cakes, and sweet soups.
Public Pleas and Public Service: I was astonished to learn that the Urban Forestry Administration of the District of Columbia actually sprays female ginkgos with pesticides to prevent fruit development. If this doesn't satisfy smell-sensitive inhabitants, they will remove and replace female ginkgo trees if 60% of the neighborhood agrees. Cutting down a beautiful, mature tree that provides nutrition and deliciousness just because it smells bad for a few weeks in fall? Crime against nature, if you ask me.