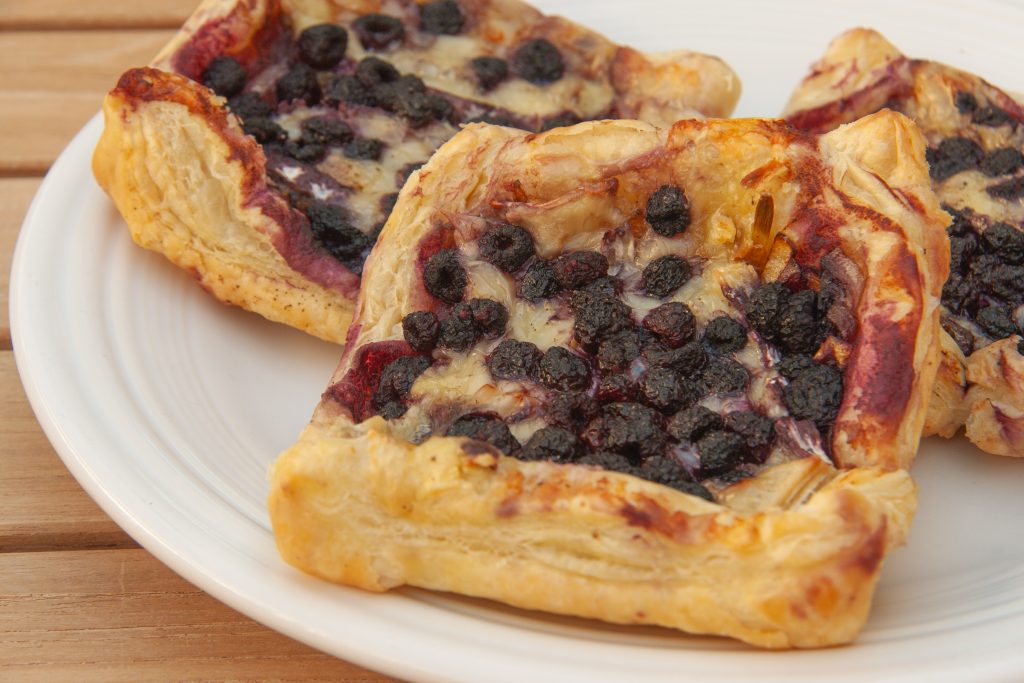 On a recent Plantrama podcast, my co-host C.L. Fornari and I were discussing our favorite raspberry recipes and I realized I'd never posted this one. Please forgive me! With store bought puff pastry (go ahead and judge me, I don't care), brie, and the berry of your choice, you can make this most elegant and delicious of appetizers: a berry-brie puff pastry
I first made this with serviceberries, then black raspberries, then blueberries. I've even made it with peaches, apricots, and plums. I bet it would also work with apples and pears because the combination of fruit and cheese is a natural one and let's face it, puff pastry is delicious all on its own.
If you're a regular visitor here, you know my philosophy regarding pie crusts and puff pastry. I have better things to do with my time than make either one of these. But if you love making them, feel free!
I serve this as a savory appetizer or side dish. Sure, there's a little sweetness to the fruit, but the pastry and brie shift the balance to the savory side. If you wanted to serve this as dessert instead, you could simply drizzle it with a honey/foraged herb mixture (I recommend melilot).
What You Need to make a berry-brie puff pastry
1 sheet frozen puff pastry
1/2 medium onion
your fat of choice
black pepper
1 cup of your berry of choice
9 slices (approximately 2 inches long) of brie
1 egg white
WHAT YOU'll do TO MAKE A BERRY-BRIE PUFF PASTRY
Preheat your oven to 425F, and line a baking sheet with parchment paper.
Thaw your puff pastry in the refrigerator until you can unfold it without having it break apart. If it does break, don't worry. You can push the pieces back together and reestablish the connection with your fingers. The assembly should be done while the pastry dough is cold, so don't let it sit on the counter too long.
While the pastry is thawing, chop your onion. I like to use pieces about an inch long because I love onion and want to taste it in every bite, but you can dice if you prefer smaller onion pieces. Sauté the onion in your choice of fat until it just begins to caramelize, then remove it from the heat.
Cut the puff pastry sheet into 9 equal pieces and fold in the edges to create a border about 1/4 inch wide.
Distribute the onions among the pastry pieces, then place a slice of brie on top of the onions, and follow that with a layer of fruit.
Brush the pastry with the egg white. This does two things. First, it makes the baked puff pastry look beautiful and golden. Second, it helps hold the folded edging together, especially if you press the edges down again after applying the egg wash. I used to feel that this was a waste of an egg, but it isn't. And while you could use milk instead, the results aren't quite as pretty.
Sprinkle the tops of the pastires with a few grinds of pepper and bake for 15-20 minutes or until the pastry has puffed and is an irresistible golden color.
If you'd like to serve this as a dessert, or simply prefer a sweeter flavor, drizzle with an herb/honey mixture after taking the pastries out of the oven. Personally, I love the combo just the way it is.
These are best served fresh, but they also make an excellent re-heated, left-over breakfast, served with a fried egg.