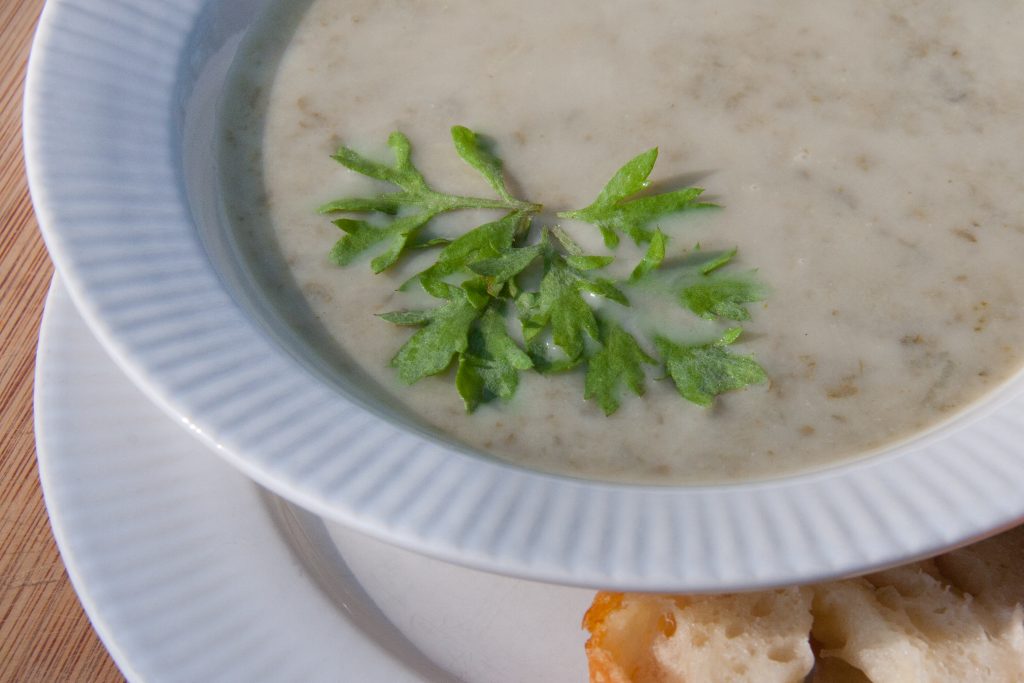 The first time I saw mugwort in my garden I thought it was a chrysanthemum. I left it in place, expecting a riot of bloom in autumn, but alas, all I got was more mugwort. The foliage isn't unattractive, and it smells terrific, but it's a thug in the garden and not something you want to let run rampant among your perennials. It is, however, a tasty herb, so while you might not let it live in your garden, you should definitely make a place for it in your kitchen.
Mugwort foliage looks a lot like chrysanthemum foliage. Leaves are two – three inches long, medium green, pinnately compound with a single terminal leaflet, and the undersides of the leaves are white. Rub the leaves between your fingers and you'll notice a strong, herbal smell. Mature plants may be over three feet tall, but the leaves won't be tasty at this point, although the roots are still useful. Mugwort is a perennial herb, dying back to the ground every year and re-growing from the roots.
Mugwort is a traditional flavoring in several Asian cuisines; you can find mugwort noodles and rice cakes in specialty grocery stores. As an herb, the flavor combines well with ginger, garlic, and sesame. Mugwort leaves are most tender and tasty in spring, before the plant flowers and becomes fibrous. Some herbalists use dried mugwort leaves for tea, but I prefer to use both mugwort roots and leaves as a base for foraged cocktail bitters. (Come on, what's more interesting, a medicinal tea or a foraged cocktail?)
If you'd like to get acquainted with the flavor of mugwort foliage, try making this spring soup. You'll find other mugwort soup recipes online, but many of them require lots of additional flavorings. I keep my mugwort soup recipe simple, so you can taste the flavor of the herb itself. Once you've made it this way, feel free to experiment and spice it up as you see fit.
What You'll Need to Make Mugwort Soup
1 medium onion, roughly chopped
olive oil
4 cups vegetable broth
1 medium potato, peeled and chopped into 1-inch pieces
4 cups tender, young mugwort leaves, roughly chopped and lightly packed
1/2 cup milk (unsweetened, unflavored nut milk is a good substitute)
What You'll Do to Make Mugwort Soup
Sauté the onion in olive oil until it's translucent and soft.
Add the vegetable broth, potato pieces, and two cups of the chopped mugwort leaves. Bring the mixture to a boil, and simmer until the potato is soft.
Add two more cups of chopped mugwort leaves and the milk, and simmer on low for ten minutes.
Remove the soup from the heat and let cool slightly. (Enough so that if it splashes you, it won't hurt!) Then, process the soup to make it smooth. You can either use an immersion blender, or transfer the soup to a food processor or blender. Re-heat the soup before serving.
The flavor of mugwort soup is earthy and herbal and green. If you're not sure what that means, I suggest you pick yourself some mugwort and find out!