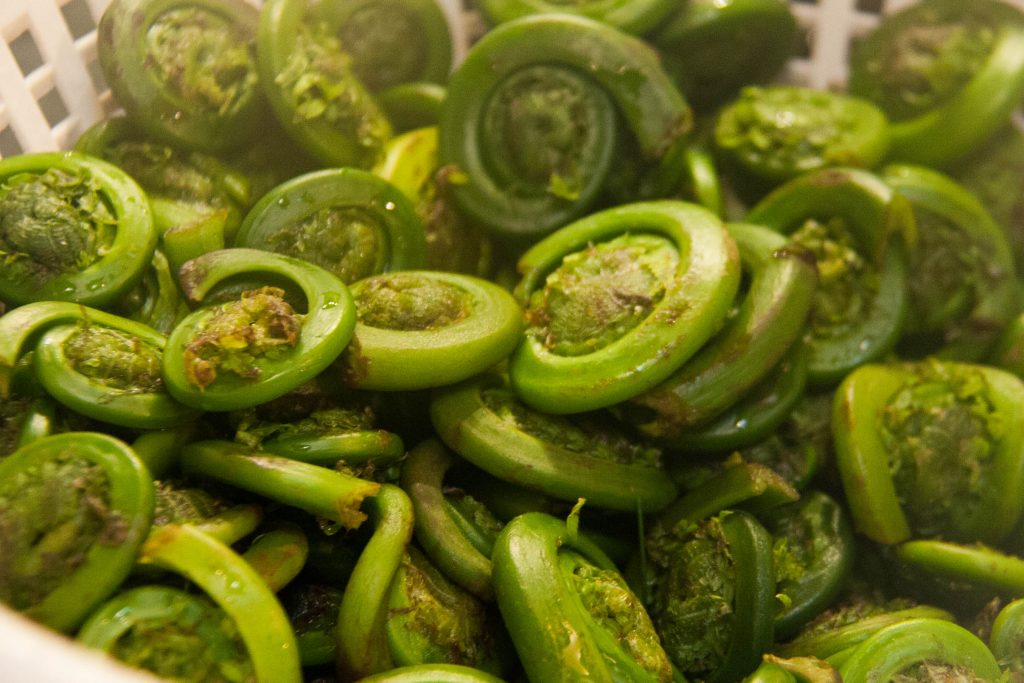 How do you know when something is safe to eat? When we shop in grocery stores, we rely on government regulations to keep us safe, but there are times when we disagree with decisions made by large institutions. To put things in perspective, do you drink raw milk? It's banned in 22 states. And the USDA considers cheeses and yogurt made from unpasteurized milk (like Brie, Camembert, and Queso Fresco) unsafe to eat.
I'm not about to stop enjoying soft, unpasteurized cheeses. I've done my research, and looked at anecdotal evidence, and I'm perfectly comfortable eating unpasteurized dairy products. I also disagree with the USDA about how to safely enjoy fiddlehead ferns.
Fiddlehead ferns are controversial, with some authorities recommending they be thoroughly cooked and others suggesting they're perfectly safe consumed raw or barely blanched.
It's normal to be apprehensive when you're just starting out; most beginning foragers err on the side of caution, and that's a good thing. The more you learn about foraging, the better equipped you'll be to make your own decisions, and I want to help you get there.
If you want to play it absolutely safe, steam your fiddleheads for 10 – 12 minutes or boil them for 15 minutes. Even the most conservative authorities agree that fiddleheads cooked for this length of time are absolutely safe.
I can't promise you'll never have any digestive upset if you eat raw or undercooked fiddleheads, but I don't know anyone (and I know a lot of foragers) who has ever had problems from eating raw fiddlehead ferns. That being said, there were several cases of food poisoning in 1994 blamed on undercooked fiddleheads. The investigation traced all the ferns back to a single supplier, but no toxin was ever identified. Many foragers remain skeptical and wonder if the real cause of the problem was in the preparation of the fiddleheads as they were canned, or if a different species of fern was inadvertently harvested.
I don't love raw fiddleheads, but I think they're delicious when lightly cooked. The application of just a little heat releases the full flavor of the fern, so I blanch mine for a few minutes.
If you want a safety guarantee, thoroughly cook your fiddleheads as described above. If you feel a little adventurous and want a more flavorful fiddlehead, steam your ferns for a few minutes, then cook them in whatever dish you decide to make, like pasta or risotto. Or, blanch your fiddleheads for five minutes and give them a quick stir fry or sauté, then serve as a vegetable. Now that you have the information, the choice is up to you.