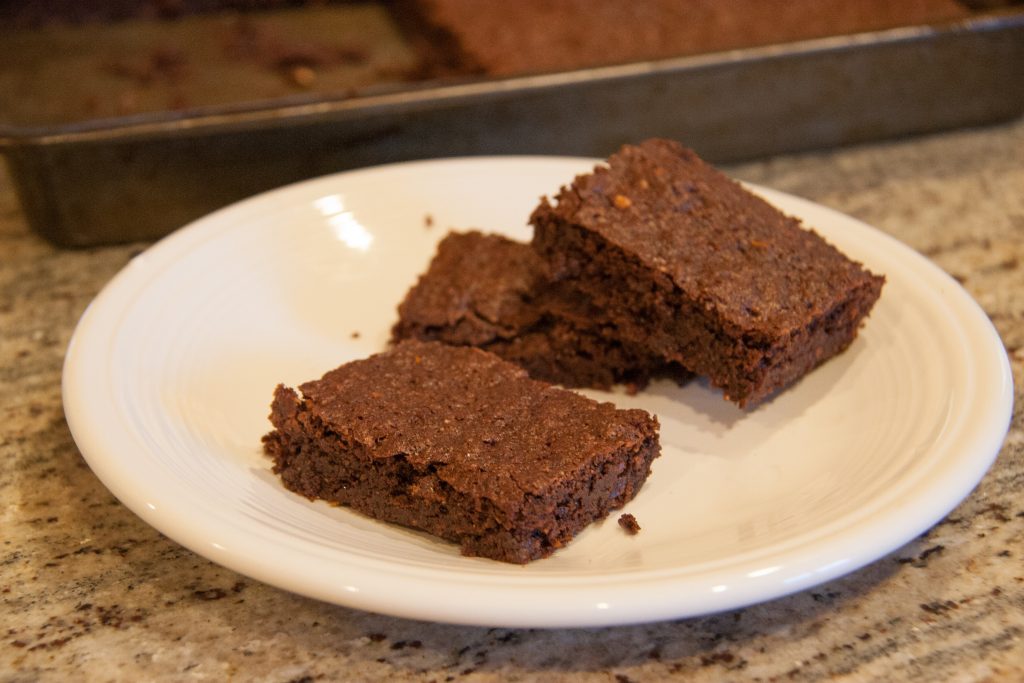 This recipe didn't turn out the way I planned.
It turned out even better!
My first experiment with a roasted dock flour brownie was a resounding success. 
I wanted to use my oldest and dearest brownie recipe, the one I used to make when I'd just moved to NYC and was trying to impress friends with my baking skills. Back then, the ingredients were traditional. Now, I've tweaked it to fit my life as a forager, and I think it's even better.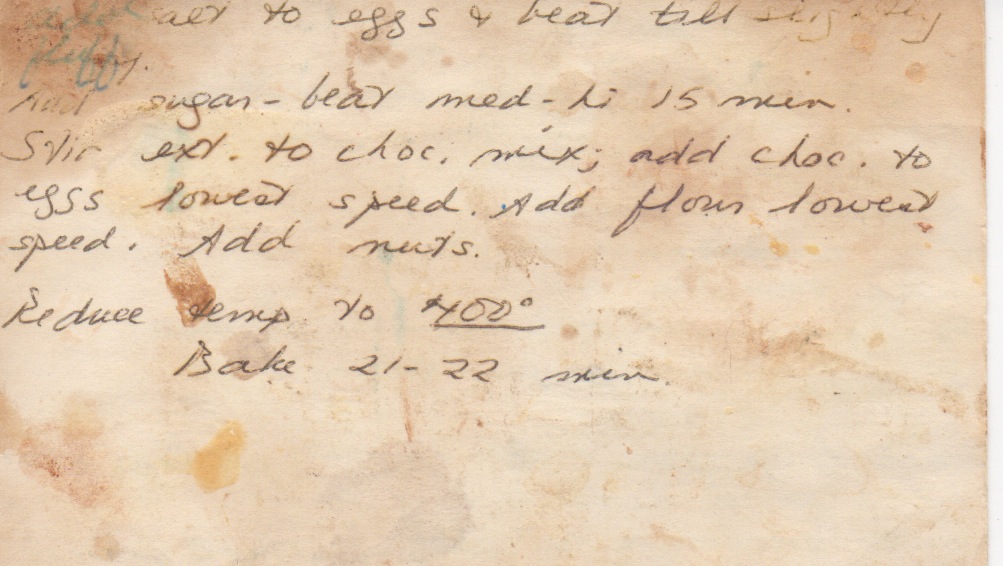 The original recipe called for powdered instant coffee, almond extract, and walnuts. I planned to replace the almond extract with ground spicebush berries and the walnuts with black walnuts. I love what the coffee brings to the batter; it adds depth and just a little bitterness to balance the chocolate. Alas, when I went to the cupboard I found no instant coffee. Worse things have happened. Moving on, I went to retrieve the black walnuts from the freezer and discovered I had some California bay nuts I'd been squirreling away (pun intended).
The flavor of California bay nuts is bitter in the same way that coffee is, i.e. bitter in a good way. A way that goes really well with chocolate. So I ditched the black walnuts and used the bay nuts. The result is a brownie that's not too sweet, and very complex. And yes, I ate it with coffee ice cream.
What You'll Need to Make Dock Flour Brownies
2 ounces unsweetened baking chocolate
1 stick (1/2 cup) unsalted butter
7/8 cup sugar
3/8 cup dock seed flour
1/8 teaspoon salt
1 Tablespoon dried, ground spicebush berries
1/2 teaspoon vanilla
2 eggs
1/4 cup chopped California bay nuts (Substitute your nut of choice if you don't have access to CA bay nuts.)
What You'll Do to Make Dock Flour Brownies
Preheat your oven to 350F.
Melt the chocolate and butter together, either in a double boiler or in the microwave.
In a mixing bowl, combine the sugar, flour, salt, and ground spicebush berries. Add the chocolate, vanilla, and eggs, and stir to create a thick batter.
Add the chopped nuts and stir to combine.
Spread the batter evenly in a greased, small baking pan (8″ x 8″).
Bake for 20-30 minutes, or until a toothpick comes out clean from the center of the brownie pan. Let the pan cool for at least a half hour before cutting into the brownies. It needs to cool and set before you can cut into it well.
This is a half batch, because we're just two people in my house. And if there are brownies in the house, you know who will eat them. I do not mean Michael. Feel free to double the recipe as you see fit.