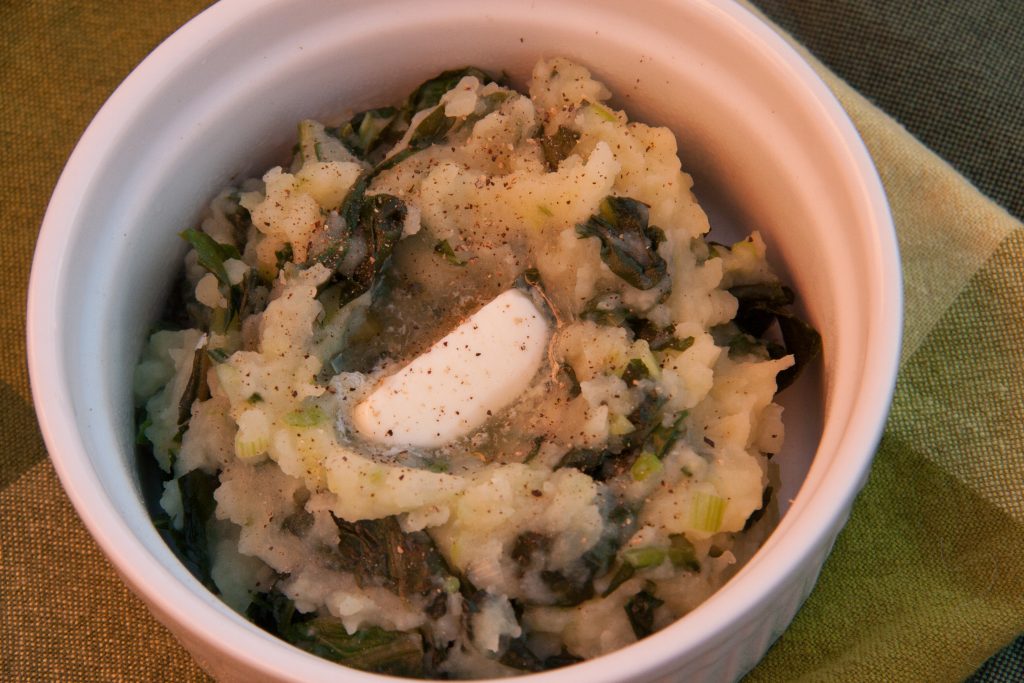 Colcannon is a classic Irish dish. The name is Gaelic for white-headed cabbage, and it's usually made from cabbage or kale combined with mashed potatoes. Traditionally colcannon is served in fall, when cabbage and kale are in season, but not being a cabbage or kale lover (who's kidding whom, I can't stand the stuff!), I make foraged colcannon in spring when I can use fresh, tender dandelion greens. Their flavor and texture nicely complement smooth mashed potatoes. It's a perfect dish for St. Patrick's Day (because it's green!) or any other spring meal.
What You'll Need to Make Dandelion Colcannon
1 1/2 pounds waxy potatoes (like Yukon gold), peeled and chopped into 1-2″ cubes
3 cups dandelion greens, finely chopped (you can substitute your favorite spring green, like garlic mustard, dock, or stinging nettles)
2 Tablespoons minced field garlic (you can substitute scallions, but double the amount)
1/2 cup buttermilk (cream or milk are also fine, but I prefer the tang of buttermilk)
3 Tablespoons butter
salt and pepper to taste
What You'll Do to Make Dandelion Colcannon
Boil the potatoes in salted water until tender, approximately twenty minutes. Drain them and finely mash them by passing the potatoes through a food mill or potato ricer into a bowl.
In the potato pot, melt two tablespoons of butter over medium heat and add the chopped greens and minced field garlic. Stir and cook until the greens have wilted, then add the buttermilk and bring the mixture to a simmer.
Remove the greens from the heat and add the mashed potatoes. Combine the greens and potatoes thoroughly, add salt and pepper to taste, and serve warm with a pat of butter in the middle of each dish.
Dandelion colcannon satisfies on many levels. It's a celebration of fresh spring greens after a winter of preserved vegetables. It's a way to combine both vegetable and starch in a single dish. The sharp bite of bitter greens (bitter in a good way) snuggled up against creamy potatoes offers an excellent flavor contrast. And the texture of wild greens makes the creamy mashed potatoes more interesting than they would be on their own.
But wait! There's more!
Creative. Leftover. Usage.
I have no problem with leftovers…in fact, I love them because it means I get another good meal without having to cook. But my husband never even thinks about checking the fridge or freezer for leftovers. It's just not on his radar. Since there's no way I'm going to throw away good food, I've had to get creative.
If by some miracle you have leftover dandelion colcannon in your freezer, you're in luck! Thawed colcannon tends to separate and look a little runny, i.e. not so appetizing. The solution? Potato pancakes! It's amazing what you can do with the application of heat and the addition of a little cheese. A crispy, golden brown crust makes these leftovers irresistible.
How to Make Dandelion Colcannon Pancakes
Thaw your leftover colcannon and place in a strainer, letting the excess liquid drain. Crumble a handful of feta cheese into the drained colcannon and combine. For 1 1/2 cups of colcannon, I use about a half cup of feta, but you can adjust according to how much colcannon you have left over and how much you like cheese.
Oil a griddle or frying pan and heat to medium hot.
Form the colcannon into patties about 3/4 inch thick and place them on the griddle. Resist temptation to flip them too soon, you want them to get brown and crispy on both sides.
Serve these pancakes with a little butter. They're so good, you may not bother to wait until you have leftovers.
P.S. This one's for you, Myrica!