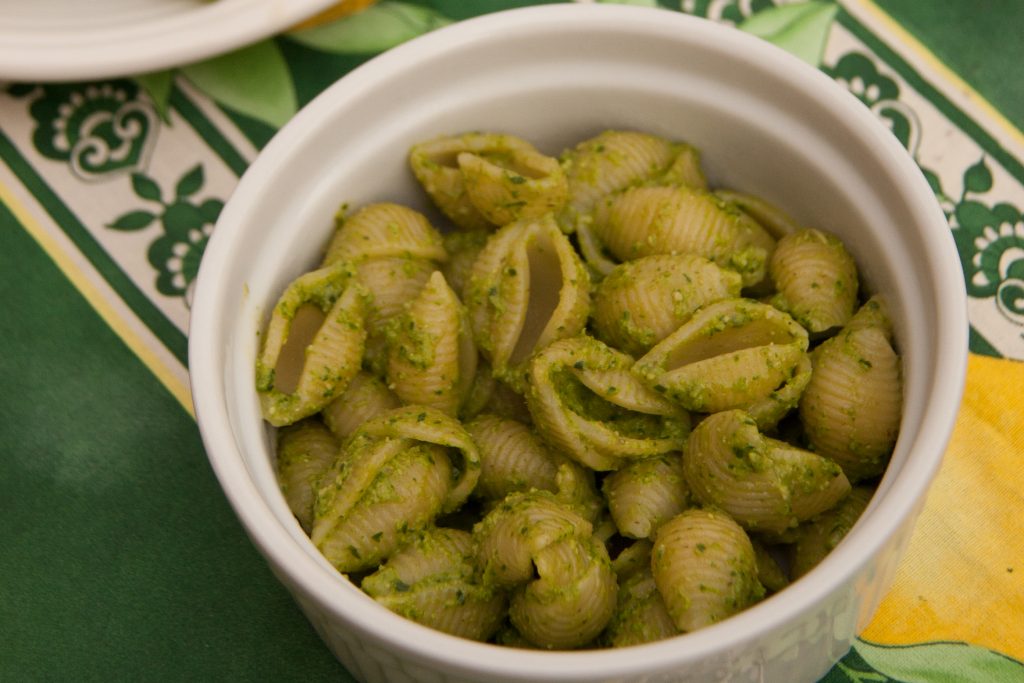 Lest you think pesto is only for basil…think again! Lots of wonderful greens make excellent pestos, and so do many different nuts and seeds. Dandelions and black walnuts are both strongly flavored wild edibles, and they combine perfectly in this pesto recipe. Fresh, tender dandelion greens and rich black walnuts liven up pasta, rice, bruschetta, or soups.
While most people consider dandelions to be a spring crop, they are also tender and tasty in fall, when you'll be harvesting black walnuts. I freeze the sauce in half cup batches to use all year 'round.
What You'll Need to Make Dandelion & Black Walnut Pesto
1/4 cup olive oil
1/2 teaspoon salt
1/2 teaspoon pepper
3 cloves of garlic, peeled
6 cups dandelion greens, roughly chopped
1/2 cup black walnuts
1/2 cup grated romano cheese
2 teaspoons lemon juice
What You'll Do to Make Dandelion & Black Walnut Pesto
While there are some cooks who insist pestos should be hand ground with a mortar and pestle, I have it on good authority that even elderly Italian grandmothers use food processors these days. Having recently received a Vitamix as a gift (ok, ok, it was a gift to myself), I was eager to try using it for the pesto, and boy, did that Vitamix make this recipe easy!
You LITERALLY throw all the ingredients into the Vitamix canister and blend. Start with the machine on the lowest of low and gradually turn it up about halfway. Watch to make sure all the big chunks run through the blades, then turn it off. You don't want a silky smooth pesto; you want to feel the grain of the sauce, so hands off the high speed button.
My husband and I don't always agree on salt and pepper levels. Start with the minimum amounts (listed above) and adjust as needed. You can always add more to your individual servings.
You can stir dandelion pesto into rice or toss it with pasta. Or add a few tablespoons to vegetable or chicken stock to amp up the flavor of your next soup.
This pesto freezes like a dream, and since the recipe makes enough for two pounds of pasta, you'll have plenty to enjoy now and put aside for later.