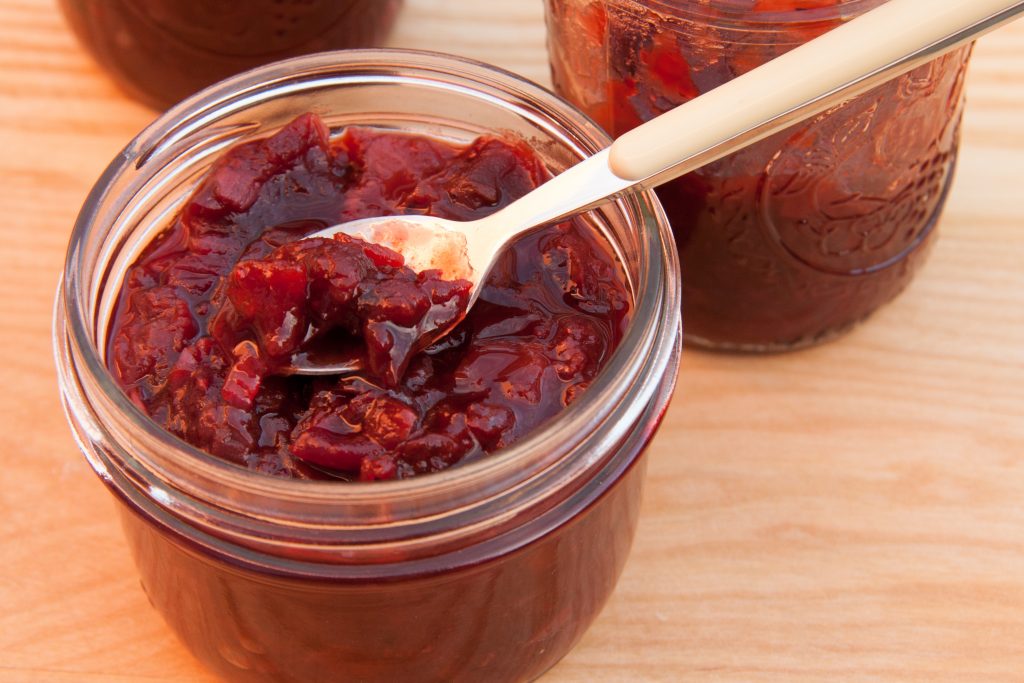 Cranberries, rose hips, and crabapples are each delicious in their own right, and fortunately for the forager, they ripen at the same time of year. All three fruits are in the sweet-tart category, so I like to combine them in a chutney, which is both sweet and savory. In this recipe they make a gorgeous, jewel-toned condiment that brightens up any holiday table. Serve it with roast beef, ham, venison, or turkey, and your guests will be clamoring for the recipe.
What You'll Need to Make Cranberry, Rose Hip, and Crabapple Chutney
3 cups cranberries
1 cup rose hips
1 cup crabapples, quartered, stemmed, and seeded (Use large crabapples for this. Small crabapples are too tedious to seed, but you can seed larger crabapples by quickly scooping out the center with a small spoon.)
1 medium onion, finely chopped
1/4 cup roasted Hatch green chile, finely chopped (You may substitute your own favorite chile or skip this entirely if you're not a fan of spicy heat. But I live in New Mexico, so green chile is pretty much required.)
1 cup vinegar
1 cup light brown sugar
1/2 teaspoon ground spicebush berries (You may substitute black pepper.)
1 Tablespoon wild ginger (You may substitute tropical ginger.)
What You'll Do to Make Cranberry, Rose Hip, and Crabapple Chutney
Combine all the ingredients in a large pot with a heavy bottom, and bring the mixture to a boil over medium-high heat. Maintain the chutney at a low boil, stirring regularly to prevent scorching and sticking. Cook until the chutney thickens enough that you can draw a spoon across the bottom of the pan and it leaves a trail that takes a few seconds to close up behind the spoon. This may take 30 – 60 minutes of simmering.
Remove the chutney from the heat and pour into sterilized jars.
This chutney will keep in the refrigerator for up to a month. For longer shelf life, process jars in a boiling water bath for 15 minutes. In addition to serving this as a complement to meat, it's wonderful with baked brie or a sharp cheddar cheese.