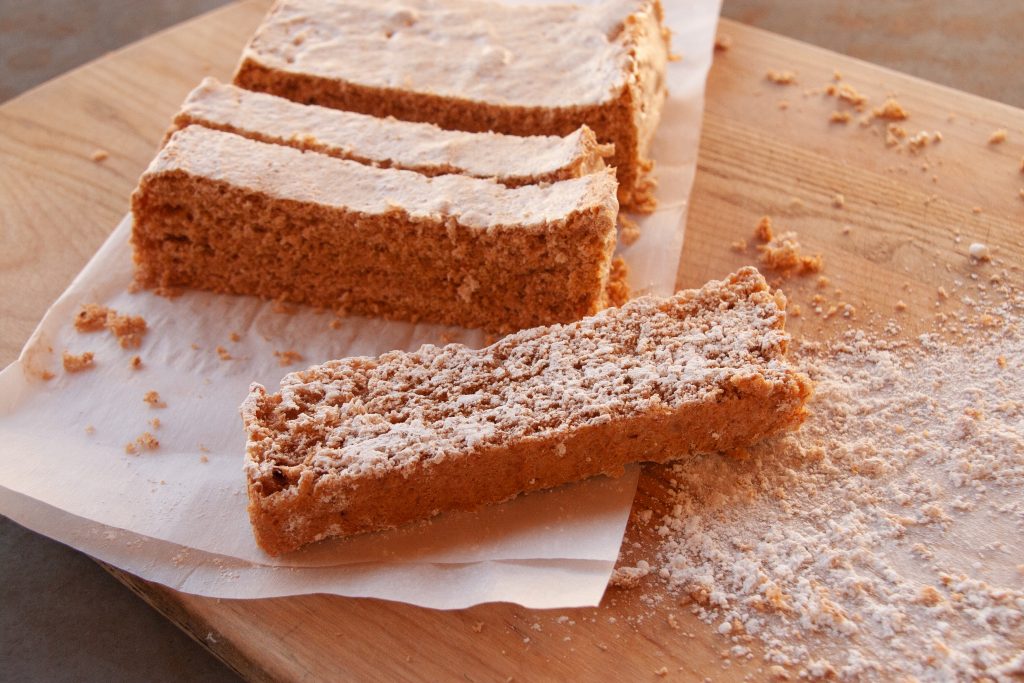 I'm always looking at old recipe books for interesting foods I can put a foraged spin on, and when I discovered pastila, I realized I'd hit the jackpot. Traditionally made with tart apples, I knew right away it would work with crabapples, and I already had several jars of crabapple sauce in my pantry, which gave me a head start. Crabapple pastila comes together easily with just a few ingredients. It's low-sugar, low-fat, and loaded with apple flavor. Plus the method is pretty cool. I bet you've never made anything like it, unless you hail from Mother Russia.
The texture of pastila is sometimes compared to marshmallows, but I disagree. While it is light and airy, it is not soft and smushy. It resembles biscotti in appearance, but not in texture. Not helpful descriptions? Well I guess you'll just have to make it and see for yourself.
Pastila can also be made with store bought applesauce, but since that will be considerably sweeter than crabapple sauce, and since pastila is traditionally made with tart apples, you'll need to cut back on the sugar. And yes, it's also made with raw egg whites, so if that's not something you're comfortable with, you can stop reading now!
What You'll need to make crabapple pastila
2 cups crabapple sauce
2 egg whites
3/4 cup sugar
1/2 cup powdered sugar (optional)
what you'll do to make crabapple pastila
Combine the crabapple sauce and the egg whites in a stand mixer and turn the mixer onto medium. Gradually add the sugar in 1/4 cup increments, tasting after each addition. The tartness of your crabapple sauce will determine how much sugar you'll add. I usually use between 1/4 and 1/2 cup.
Continue beating on medium for 10 minutes, scraping down the sides of the bowl every few minutes. The batter should quadruple in size. The amount of sugar you use may influence the volume of your final product, but not by a lot. You're looking for a final volume of about eight cups.
While the batter is being beaten, preheat your oven to 180F. Line a rimmed baking sheet with parchment paper (including the sides) and spray it with baking spray.
Set aside two cups of the finished batter in the refrigerator. Spread the rest of the batter onto the parchment paper, and smooth it with a rubber spatula to even out the surface.
Bake for 4-7 hours, or until the top of the batter is dry to the touch. Remove from the oven and let it cool completely, then lift the pastila out of the pan, turn it over, and peel off the parchment paper. I often let my pastila cool overnight and finish it off the next morning.
Preheat your over to 180F (again!) and line a baking sheet with parchment paper. Cut the pastila into three equal pieces, and place one piece on the paper. Spread the top with a layer of the reserved batter, like frosting. Place a piece of pastila on top of the frosted layer, and use more reserved batter to frost this layer. Top with the final piece of pastila and frost the top and sides with the remaining reserved batter.
Bake the assembled pastila for 1 1/2 hours, then remove it from the oven and let it cool completely. When the pastila has cooled, cut it into 1 inch slices. You may dust the cut slices with powdered sugar if you like, depending on the size of your sweet tooth. The flavor will be apple-y and tart, with an edge of sweetness. This is delicious served with a cup of tea.