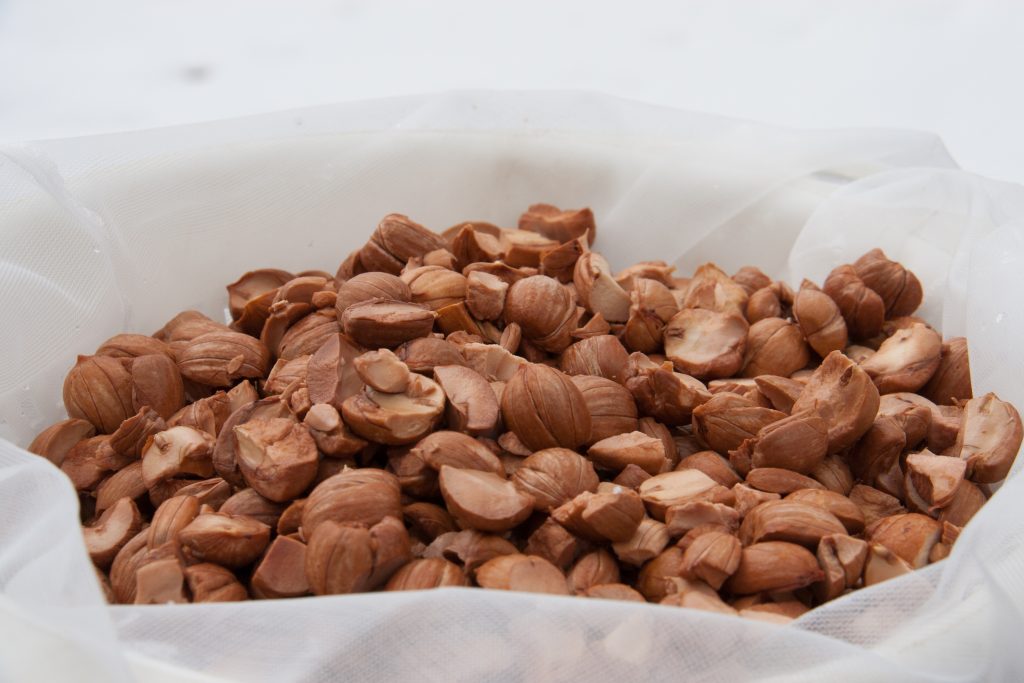 While there are several ways to leach acorns, cold leaching is the best way to create a versatile end product that can be used as a fine flour or coarse polenta. Acorn flour doesn't have gluten in it, so it won't rise on its own. That's why you often see recipes call for half acorn flour and half regular flour. But some baked goods, like cookies and brownies, work well with cold-leached acorn flour alone. Acorn flour adds richness and depth to anything you use it in.
Hot leaching cooks the starch in the acorns (making them suitable for soups and grits), so baked goods made with hot-leached flour may fall apart. Cold leaching preserves the starch that helps bind your baked goods, so if you like to bake, cold-leaching is the way to go.
You have choices when it comes to cold-leaching acorns. Here are three methods, all of which work well. The main difference is how much time it takes to get the job done.
The Lazy Way to Cold Water Leach Acorns
Native peoples used to let running water do the work of leaching by tethering baskets of acorns in a stream and allowing the cold water to run through the nuts for several days. I don't have a stream, but I do have a toilet tank.
For long term storage, dry your leached acorns in a dehydrator on the lowest possible temperature. You must keep the temperature below 150F to avoid cooking the starch. If you don't have a dehydrator with a temperature setting, set it to low. If you don't have a dehydrator at all, you can dry your acorn meal in an oven or warming drawer, as long as the temperature is below 150F. The nuts are fully dried when they are brittle and can be broken in half with a snap.
Dehydrated, leached acorns can be ground into flour right away, or stored whole. In any case they should be sealed and stored in the freezer. Acorns are high in fat, which may turn rancid if stored at room temperature.
The Jar Method for Cold Leaching Acorns (still pretty easy for a lazy forager)
If the idea of using the toilet makes you uncomfortable, try the jar method. It's low tech, and requires only a little more effort on your part. For this method, you'll need to grind your shelled acorns into a coarse meal before leaching. You can do this in a high quality blender, like a Vitamix, or with a hand mill, sold for grinding whole corn kernels. A hand mill produces a coarse grind, which is perfect for recipes like falafel and veggie burgers, while the Vitamix produces a finer flour, excellent for baking.
You can dry and freeze the acorn meal, or freeze the wet acorn meal. If you do the latter, you'll need to adjust the liquid in any recipe you use it in.
The Fastest Way to Cold Leach Acorns
If you're in a big hurry for leached acorn flour, try the running water method. This is the most labor-intensive method, but is by no means difficult. Put a cup of shelled nuts in a blender and add water to four to five inches above the level of the nuts. Pulverize to create a slurry, and set aside. (If you have already ground your acorns into meal, but not yet leached them, you can also use the method described below.)
You can freeze the moist acorn meal as is, but you'll need to use slightly less liquid in any recipe you make with the flour. I prefer to fully dry the flour before sealing it for long term storage.
You can stop here, at the dried acorn meal stage, or grind it to make a fine flour for baking. The dry grains canister of a Vitamix does a great job in under a minute, but an ordinary spice grinder also does a very good job, albeit in smaller batches. I like to keep jars of both coarse meal and fine flour on hand.