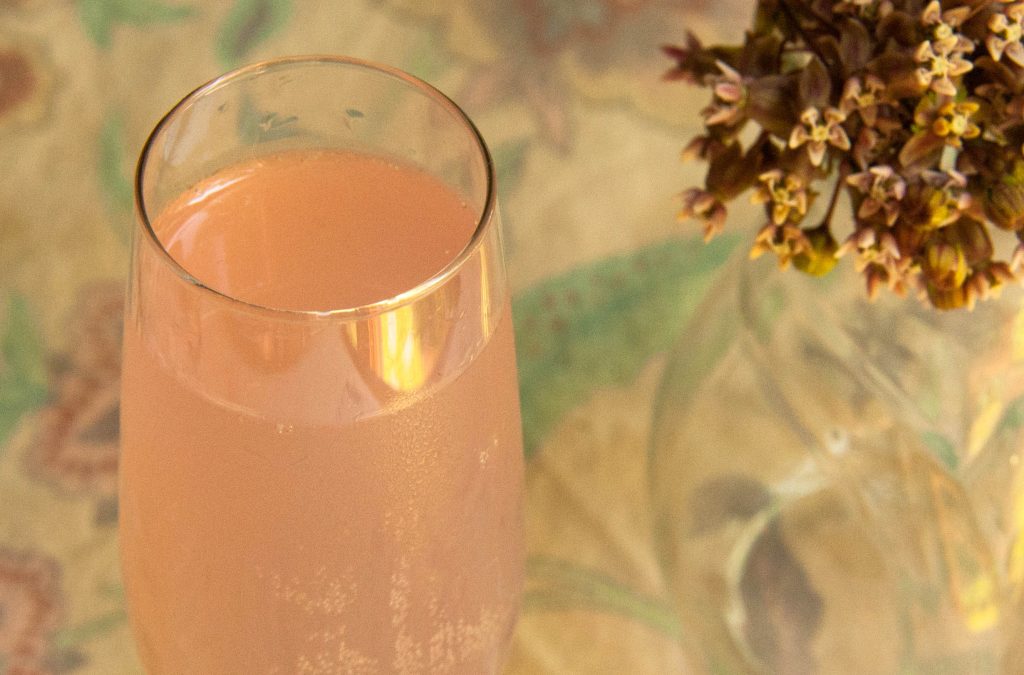 Here's a milkweed flower cocktail recipe (and a little plant geekery) from my new book: The Wildcrafted Cocktail.
For years common milkweed has been dismissed as a weed rather than appreciated for its many virtues. Few people know that during World War II, the waterproof fibers inside milkweed seed pods were used to fill life vests when the United States no longer had access to the traditional kapok filling imported from the South Pacific. Today those same fibers are used as an effective material to absorb oil spills.
Lepidopterists appreciate milkweed as an essential food source for the caterpillar stage of the monarch butterfly, and foragers eat the young stems, unopened flower buds, and immature seed pods as delicious green vegetables. The fully ripe flowers of common milkweed make a naturally pink simple syrup that can be used in sorbets, ice cream, jellies, and cocktails. Let's take a moment to focus on the latter, shall we?
There are many species of milkweed, but only A. syriaca and A. speciosa are universally acknowledged (among foragers) as edible. To harvest milkweed flowers, wait until they are fully open and dripping with nectar. When the flowers are ripe, each individual bloom exudes a large, glossy drop. Dab that with your finger and have a taste. It's floral (of course), rich, and a little spicy, but not in a hot-spicy way.
Snip off the umbels (whole) and shake off any insects. Don't wash the flowers, or you'll rinse away the flavorful nectar. Now, to make the milkweed flower syrup…the first step in making your cocktail.
To Make Milkweed Syrup
This recipe makes about 2.5 cups of syrup.
2 cups milkweed flowers
1 1/2 cups sugar
1 1/2 cups water
Combine the milkweed flowers and the sugar in a glass or plastic container with a tight lid, stir well, and let it sit, covered, for 24 hours.
Transfer the milkweed flowers and sugar to a saucepan and add the water. Whisk over medium heat until the sugar is fully dissolved and the liquid just begins to simmer. Remove from the heat and cover. Let the syrup sit overnight.
Strain the syrup, throw away the flowers, and pour the liquid into a jar with a tight fitting lid. The syrup will keep for several months in the refrigerator. For long-term storage, process half pint jars (with ¼" head space) in a boiling water bath for 10 minutes.
To Make One Butterfly Kiss (a Milkweed Flower Cocktail)
2 1/2 ounces vodka
1 1/2 ounces milkweed flower simple syrup
1/2 ounce seltzer, sparkling water, or club soda
Combine the vodka and milkweed flower syrup in a shaker full of ice and shake for 30 seconds. Strain into a coupe or flute, and top with seltzer, sparkling water, or club soda. No garnish required.