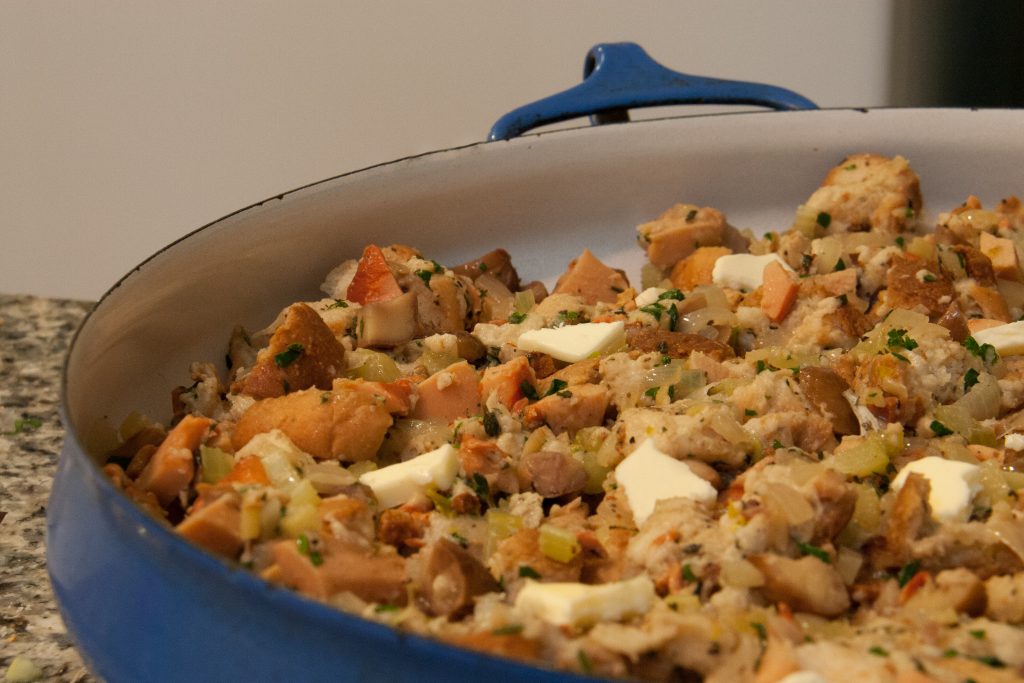 It's that time of year again…the time of year when people think about stuffing. This wild mushroom stuffing recipe with chestnuts and fresh herbs is the best I've ever eaten. And if you forage for your own chestnuts, well hooray for you and your friends who come to dinner.
What You'll Need to Make Wild Mushroom Stuffing
4 ounces of diced bacon or pancetta
1 1/2 cups dried mushrooms (Chicken of the Woods makes an especially pretty stuffing, but you can use any mushroom in this recipe, whether it's wild or cultivated.)
2 cups of chopped onions
2 cups of chopped celery
1 stick of butter
10 ounces peeled, quartered chestnuts
1/2 cup chopped parsley
1 Tablespoon chopped fresh thyme
1 Tablespoon chopped fresh sage
2 teaspoons salt
1 teaspoon ground pepper
1 pound sourdough bread
2 cups broth or stock (chicken, mushroom, vegetable, meat)
What You'll Do to Make Wild Mushroom Stuffing
Rehydrate your mushrooms by soaking them in hot water for as long as it takes for them to be pliable. Strain off the solids, and set the liquid aside. You can use it as part of the broth called for later in the recipe.
Fry the bacon or pancetta, and let it drain on a paper towel.
Add the mushrooms, onions, and celery to the bacon (or pancetta) fat and cook until soft, adding butter as needed. You may use up to a stick of butter. This is not a low fat recipe!
Remove the mushrooms and vegetables from the heat, and add the chestnuts, parsley, thyme, sage, salt, and pepper, and combine well.
Cut the sourdough bread into 1″ cubes, and add it to the other ingredients.
Add your choice of broth to the bread mix, 1/2 cup at a time, stirring to combine after each addition. Stop when the mixture holds together lightly. You'll probably need 1 – 1 1/2 cups in total.
Spoon the stuffing into a well-greased casserole dish, and dot the top with butter. Bake at 375F for 35 – 45 minutes or until the top is browned.