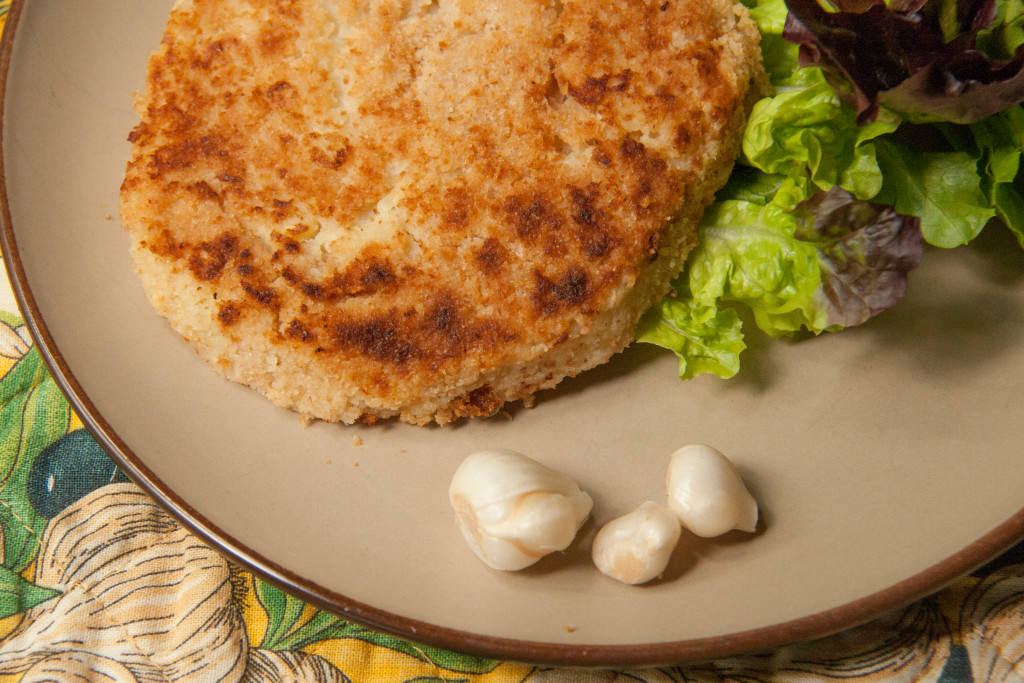 You have probably never heard of wild garlic potato pancakes. I like to think that's because I made them up, but let's face it, some other Greek chowhound probably experimented along these same lines before I did. But did they use WILD garlic?
Skordalia is a traditional Greek dish made from either stale bread or potatoes, with garlic and lemon juice. It's one of those peasant dishes whipped up by yiayias who had nothing in their pantries but still needed to feed the family. I grew up eating potato skordalia, so that's what I use. Plus, I'm more likely to have potatoes on hand than stale bread.
While Greeks eat plenty of potatoes, they are NOT known for their potato pancakes. When I found myself with some leftover wild garlic skordalia, the first thing that came to mind was to fry it up on the griddle in pancake form. I liked it so much, I think I'll skip the interim state from now on. A crispy crust makes an already tasty dish even better.
What You'll Need to Make Wild Garlic Potato Pancakes:
2 large potatoes
water
1/4 cup wild garlic bulbs (If you don't have wild garlic, you may substitute regular garlic, but use only 5-6 cloves. Regular garlic has a stronger flavor than wild garlic.)
4 Tablespoons lemon juice
1/4 cup olive oil
salt and pepper to taste (start with a tablespoon of salt and a teaspoon of pepper)
What You'll Do to Make Wild Garlic Potato Pancakes:
Peel the potatoes, cut them into quarters, and boil them until they're soft enough to pierce easily with a fork. Set them aside and save the cooking water. You'll need it later.
While the potatoes are boiling, clean and trim your wild garlic bulbs. Transfer them to the bowl of a food processor and pulse until they are well minced.
Cut the still warm potatoes into cubes (approximately 1 inch in diameter) and add them, plus the salt, pepper, olive oil, and lemon juice to the bowl of the food processor. Pulse to thoroughly combine all the ingredients. If the mixture feels dry, add small amounts of potato water until you get a dough that's moist enough to mold into patties, but not so wet that the pancakes don't hold together. Taste the skordalia and adjust your seasoning as needed.
Form the dough into pancakes, heat up your griddle, and add a drizzle of olive oil to the surface. Cook the pancakes over medium heat until they turn a crispy, golden brown on one side, then flip them over and do the same for the second side. You're not trying to cook the pancakes (you've already boiled the potatoes), but you do want to create a crunchy crust to surround all that garlicky potatoey goodness.
Traditional skordalia is a dip usually served as an appetizer, but skordalia pancakes make a great side dish. Best served warm!