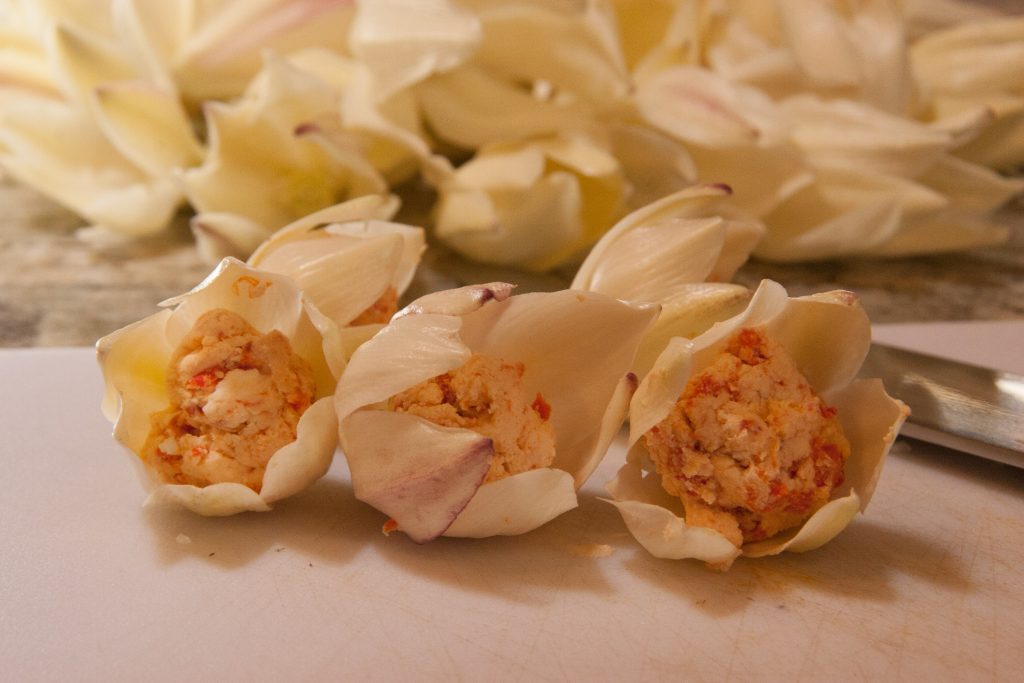 Yucca flowers are perfect little bite-sized packages, so why not fill them with something delicious? Start with a cream cheese base, then add your choice of flavorings.
In Latin America, yucca flowers are a traditional food, often cooked with eggs or tomato sauce. I haven't tasted every species, but they're all considered edible. Some people get an itchy throat when eating the flowers raw, and some people eat only the petals, not the pistils and stamens inside. I eat the whole flower, both raw and cooked with no trouble at all.
You'll use the whole yucca flower in this recipe, but remove the pistils and stamens first. Grasp them at the base where they join the flower and give a quick twist. These flower parts cook more slowly than the flower petals, so we'll give them a head start.
What You'll Need to Make Stuffed Yucca Blossoms
rinsed yucca flowers, pistils and stamens removed and reserved
1/2 cup cream cheese, room temperature
1/2 tsp. salt
1/2 tsp. ground sumac
1/4 cup chopped onions
2 Tbs. chopped green chiles (if you're not a fan of spicy food, you can substitute chopped, roasted red peppers)
flour
1 egg (beaten)
What You'll Need to Make Stuffed Yucca Blossoms
Roughly chop the yucca pistils and stamens and the onion, and sauté in olive oil until the onions are translucent. The pistils and stamens may (or may not) turn green. Add the salt, sumac powder, and whichever kind of pepper you prefer, and stir to combine, then remove from the heat. You don't need to cook the spices and peppers, just warm them up a little.
In a bowl, fold the warmed ingredients into the cream cheese.
Place a teaspoon of the cheese mixture inside each yucca flower and gently press the flowers closed. Dip each flower in the beaten egg, then lightly dredge in flour and set aside.
In a clean sauté pan, add some more olive oil and fry the stuffed blossoms until the cream cheese becomes soft and melty, and the outside of each flower is a crispy golden brown. Serve warm.