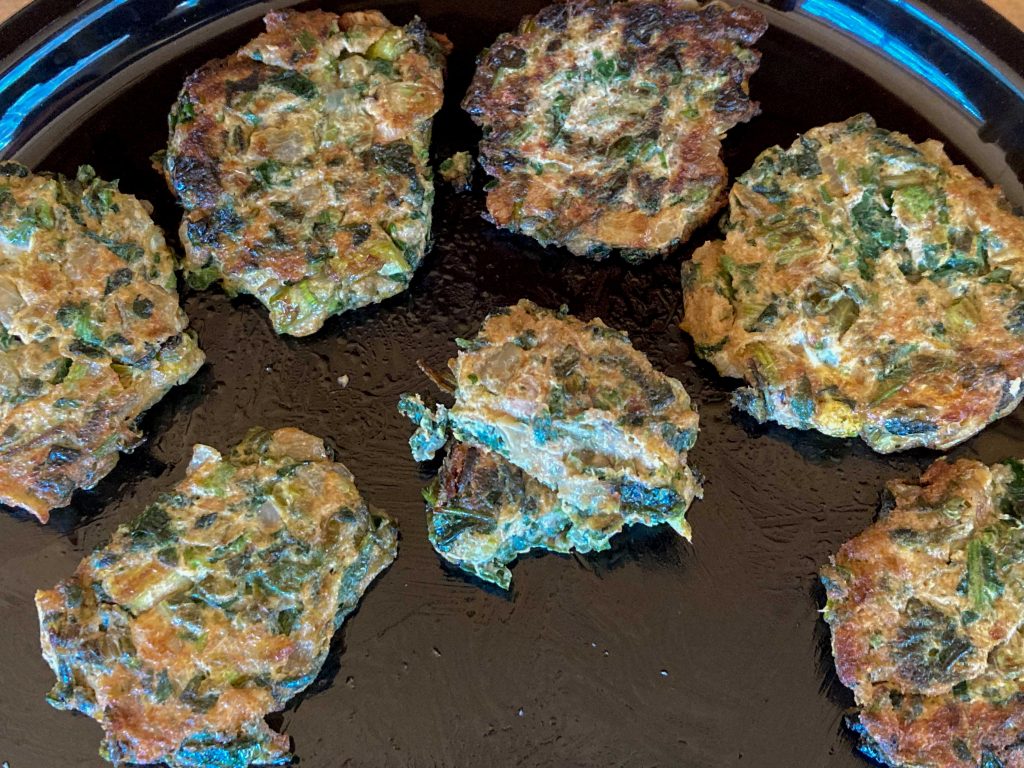 I admit it, I'm feeling a little cocky. After a long winter with very few fresh veg, spring greens are popping up all over, and these fritters bring just what I need and want to the table: fresh, healthy vegetables in a rich base of puréed evening primrose root. Each bite made me smile.
Some foragers say that evening primrose root has a strong, peppery flavor, but before you let this deter (or encourage) you, please remember that taste is strongly subjective and that the flavors of many wild edibles varies from place to place. The evening primrose roots I used in this recipe had no peppery flavor at all. In fact, they were so mild as to be almost bland. I knew that would make them the perfect delivery vehicle for the six different spring greens I came home with yesterday afternoon.
I considered adding cheese and a few additional spices to the fritters, but in the end I decided to keep it simple. I wanted to be able to appreciate the wild flavors in their most unadorned state. Although Michael did say that a dollop of sour cream would have been a nice touch. I can't disagree. But we had no sour cream and these were delicious all on their own!
What You'll Need to Make Springs Greens Fritters
1/2 cup evening primrose purée
1 cup chopped spring greens
1/4 cup chopped Allium of choice (foraged, store bought, either one works)
1 egg
salt to taste
olive oil or your cooking fat of choice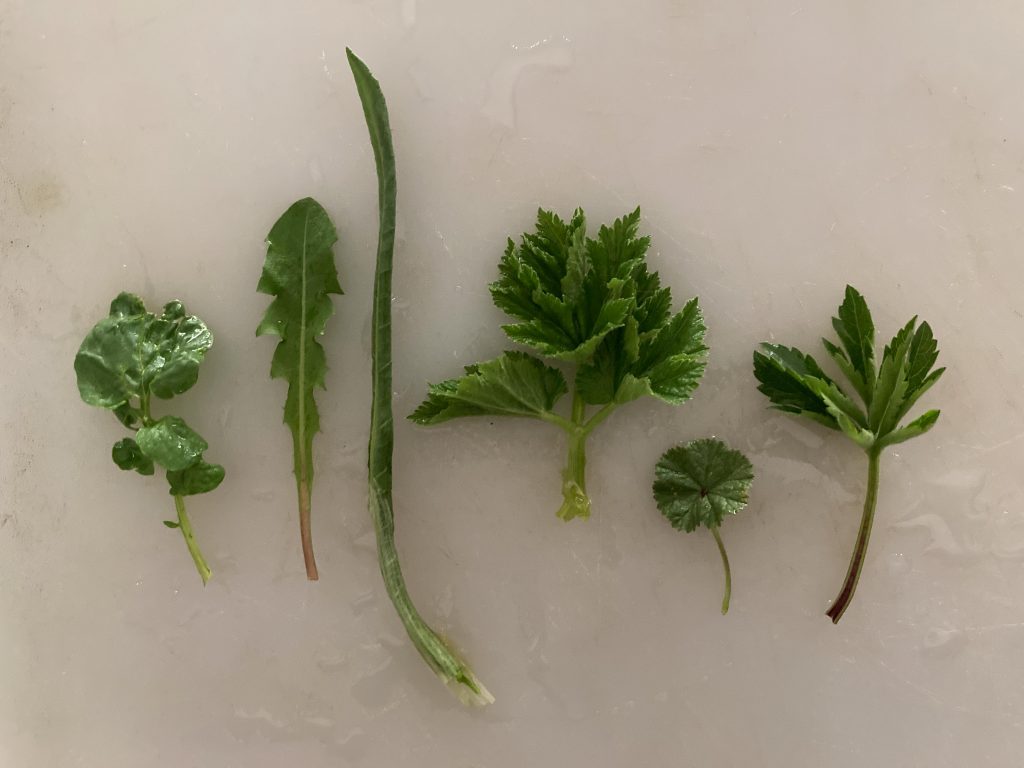 What You'll Do to Make Springs Greens Fritters
To prep your evening primrose roots, you'll need to peel and boil them. The size of your roots will determine how long they need to cook. When it's easy to pierce them with a fork, strain them from the water, chop into bit sized pieces and transfer them to a blender or spice grinder and blend until you have a super smooth purée. If you've missed the season for evening primrose roots (They should be harvested at the end of their first year or beginning of their second year, before the flower stalk begins to grow.) feel free to substitute the puréed root of your choice. Burdock, salsify, and dandelion would all work well. Potatoes are also an acceptable substitute, but may require the addition of a little milk or an additional egg.
Mince your allium (wild garlic, wild onion, ramps, etc.) and sauté briefly in oil, until they soften. You're not going for brown or caramelized here, you just want the alliums to be soft enough to have a pleasant texture and to soften their bite just a little.
Chop your spring greens and add them to the cooked alliums. Stir the greens over medium heat just long enough to reduce and wilt them. Some of the greens in my fritters required a little extra cooking. I blanched the wintercress to remove their bitter edge, and I cooked the mallow and cow parsnip greens just long enough to smooth out their hairy texture. Add 1/2 teaspoon salt, taste your greens, and add more salt if necessary.
Remove your greens and alliums from the stove and let them cool to body temperature. Add the evening primrose purée and one beaten egg, and stir to combine thoroughly.
Next, pour a thin layer of olive oil (or your cooking fat of choice) into a sauté pan and heat the oil until it spatters when you flick a drop of water into it. Using a Tablespoon, transfer the batter into the oil, spacing the spoonfuls widely enough so they don't touch. Press down on the batter gently to flatten it slightly.
When the first side has browned (3-5 minutes), flip the fritters and brown the second side. This will be faster, needing only 2-3 minutes.
These are best eaten hot, so either serve immediately, or reheat them on a cookie sheet in the oven before serving. Welcome to spring my friends! Isn't it delicious?