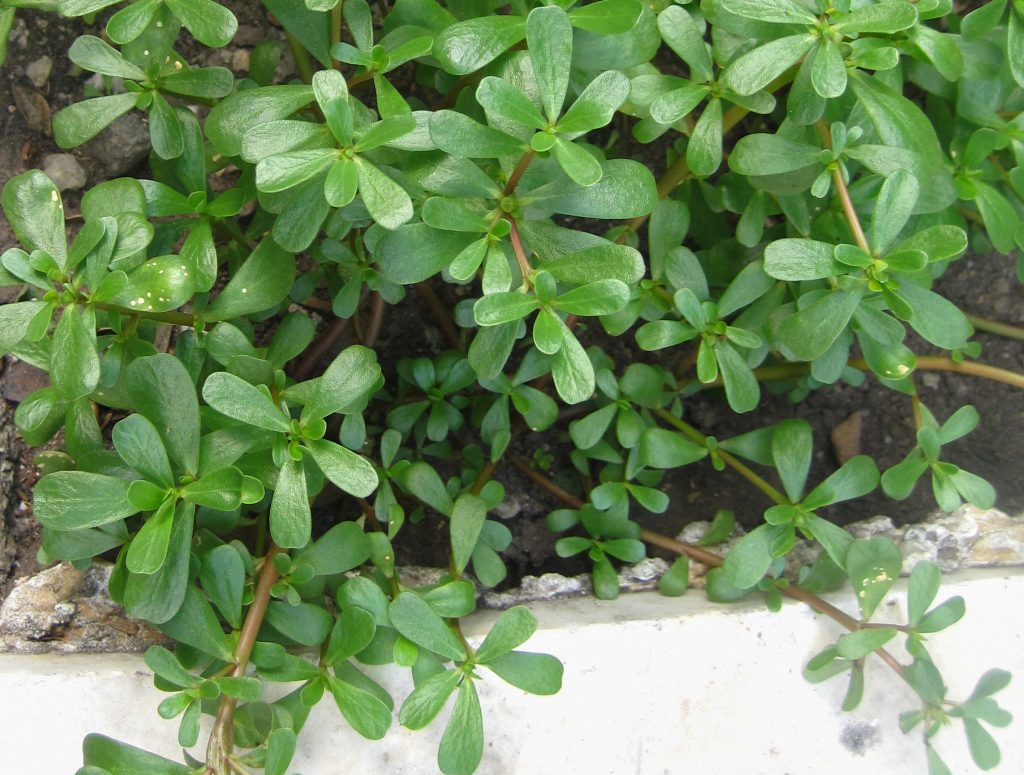 Next time you're at the farmers' market or in the produce section, look around for purslane. (In Spanish markets, you may find it labelled verdolagas.) This is the very same purslane that grows in between the vegetable rows in your garden, and between the pavement cracks in your driveway. The only difference is that store bought purslane has been washed, trimmed, and comes with a hefty price tag. Native to India and the Middle East, it's appreciated as a food plant around the world. Yet here, most people pull it up as a weed. I'd like to change that.
If you don't want to pay for your purslane, look for this plant in sunny, dry spots. This is an annual plant, with small, succulent, paddle-shaped leaves about an inch long. It produces small yellow flowers in mid to late summer. Wild purslane usually grows low and flat, hugging the ground. With more water and in richer soils, it has an upright growth habit and may be six to eight inches tall.
Purslane has a tart, lemony flavor and is high in iron, vitamins A & C, antioxidants, and omega 3 fatty acids. In fact, it is higher in omega 3 fatty acids than any other leafy green plant tested to date. Purslane has developed survival mechanisms that allow it to thrive in adverse conditions, especially drought. In addition to succulent leaf tissue and a waxy leaf covering (cuticle), it's capable of photosynthesizing in two different ways. (Bear with me, this relates to flavor.)
In times of drought, purslane switches over from regular, C4 carbon fixation photosynthesis to CAM photosynthesis, in which the stomata open and close at night rather than during the day. The carbon dioxide taken in at night is transformed into malic acid, which is later converted to glucose. So, if your purslane is growing in hot, dry conditions and you want really sour flavor, harvest it early in the day, before the malic acid is converted to sugar.
Young, raw purslane is crunchy and slightly tart; the flavor is better, and the leaves are usually juicier, before the plant sets seed later in the growing season. If you find a nice patch and want to prolong your harvest, pinch off the top few inches of the plant on a regular basis. Regular pinching encourages branching and prevents flowering and seed development. If you'd like to guarantee that your purslane patch returns next year, at some point you'll need to let the plant flower and set seed.
Young, tender purslane is great in salads and sandwiches. Pinch off the top few pairs of leaves to eat raw. Older, purslane is slightly mucilaginous (nothing like okra) and for this reason, I prefer it cooked. Thick stems of purslane make a tasty pickle and cooked purslane tastes something like lemony spinach, although the texture is quite different and it doesn't reduce in volume like spinach does.
Purslane is great in egg dishes, stir-fries, and casseroles. It adds nutrition and substance to soups and stews. My preferred way to cook it is Purslane à la Grecque: sautéed with olive oil, feta, onions, and a few tomatoes for a delicious Mediterranean side dish. And then there's Get Off My Lawn, a delicious, weedy cocktail. It combines purslane with tequila to make a deep green adult beverage. (Want to see how to make it? Click on the link above.)
Once you've tasted purslane, you may decide you want to grow your own. You can collect seed from existing plants (one plant may produce more than 100,000 seeds) or order it from a catalog. Plants can be harvested about six to eight weeks after planting.