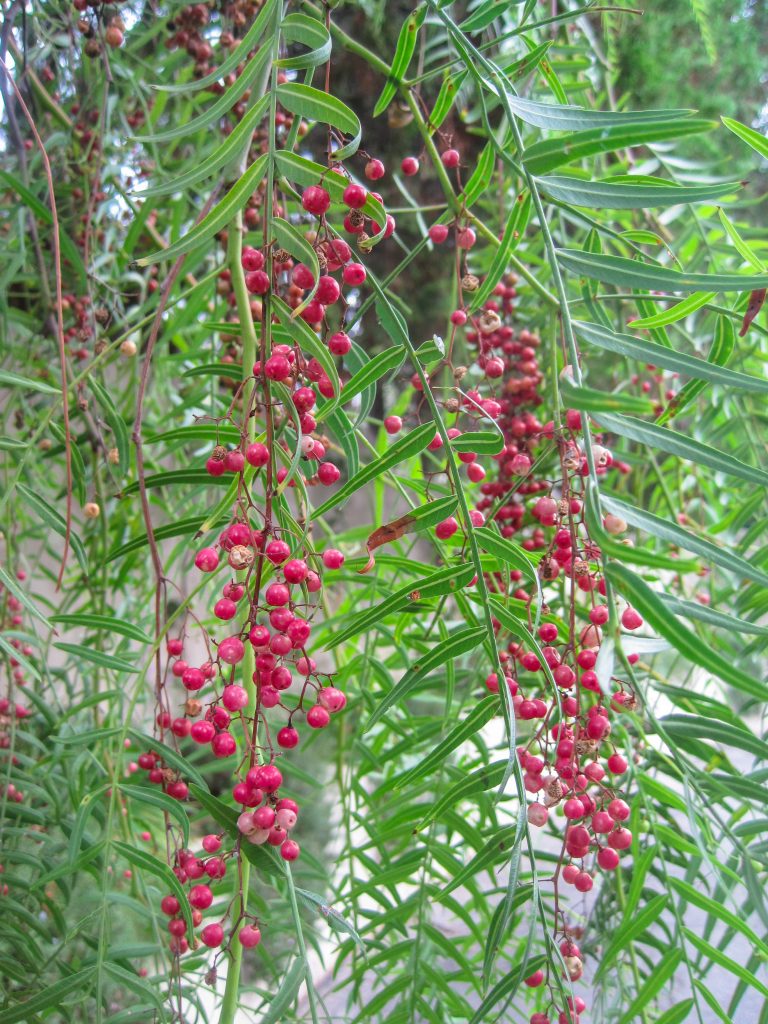 I once paid $34 for a big bag of pink peppercorns. That's embarassing to admit, but I needed the spice for a class I was teaching, and I can't forage for it where I live. But if you live where winter temperatures stay above 10 degrees Fahrenheit, you may be able to harvest this pricy spice on your morning walk.
Pink peppercorns aren't true peppercorns, they're the fruit of two trees in the Schinus genus: S. molle (aka Peruvian pepper) and S. terebinthifolius (aka Brazilian pepper). Brazilian pepper is considered an invasive plant in CA, TX, AL, GA, and FL, and its sale has been banned in several states. Additionally, some people report allergic reactions to the fruit. The Peruvian pepper tree is not only better behaved (and more beautiful) as a landscape plant, but its fruit is generally considered safe to eat. It grows to be 40 feet tall and has a graceful, weeping growth habit with finely cut foliage. Clusters of small fruit hang like grapes and ripen to a pretty pink color.
I forage for the fruit of S. molle wherever I can: the Bay Area, the west coast of Florida, Pasadena. I'm always happy to find it. (Remember how expensive it is?) Pink peppercorns are similar to black peppercorns in size, but their flavor is more delicate than that of black pepper, spicy, but without the heat. Pink peppercorns are used in recipes where black pepper could overwhelm more delicate flavors. I love the taste in desserts, where their spiciness contrasts with something rich and creamy like vanilla ice cream, fudgy brownies, or shortbread cookies.
Pink peppercorns have a papery covering surrounding a central seed. Fresh berries keep in the refrigerator for a few weeks, and dried fruit can be stored for up to six months in a closed container without refrigeration. To dry the berries, spread them on a fruit leather sheet in your dehydrator and dry them at 95F for as long as it takes to remove all the moisture.
In 1982 the FDA banned the sale of pink peppercorns, claiming they were toxic when eaten. That ban has been lifted, perhaps because the French, who grow them as a commercial crop, produced overwhelming evidence of their safety. Also, there's reason to believe that the reactions were actually caused by the fruit of S. terebinthifolius, the species of pepper tree I do not recommend.
If this makes you nervous about eating pink peppercorns, don't do it. Personally, I believe that small quantities of S. molle fruit are safe to eat.
However, if you're allergic to cashews or mangoes, proceed with caution. These plants are all members of the Anacardiaceae family, and if you're allergic to one, you MIGHT be allergic to another. Play it safe and just use a little the first time you cook with it. That way, if you have a reaction, it will be manageable. That's actually a good way to approach any new food, whether it comes from the grocery store or from your back yard.