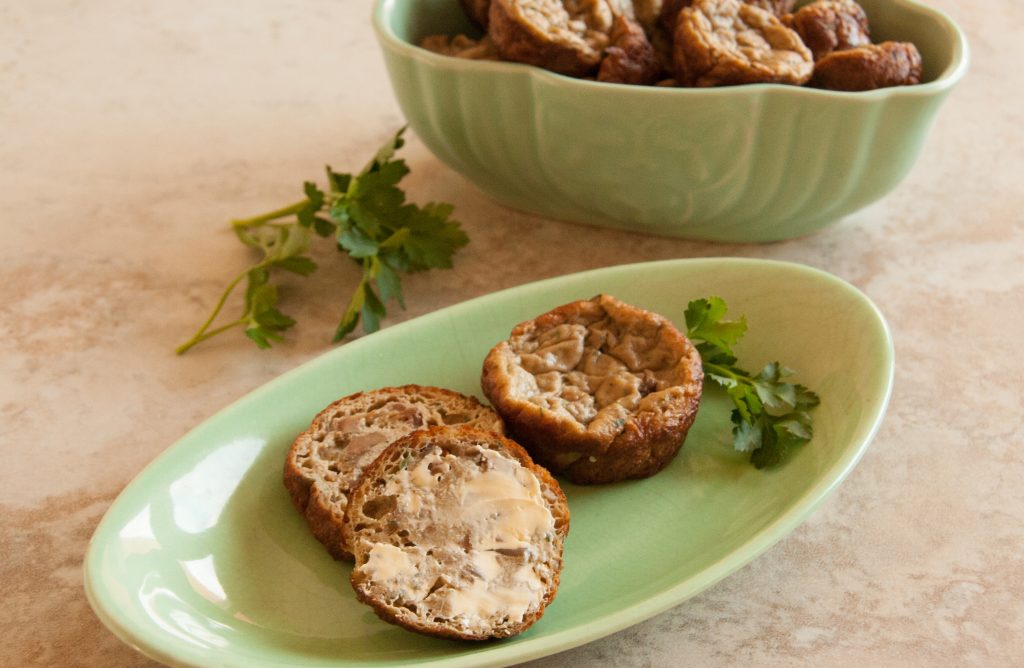 Fall is mushroom season in my part of the world. It's a great time to experiment with all sorts of mushroom recipes, and this one is a winner: versatile, delicious, and cute as a freakin' button. Mini mushroom puffs are fast and easy to make, and they keep well in the refrigerator.
This is a flexible recipe: use any kind of mushroom (try oyster mushrooms, morels, or hen of the woods) and any kind of green. Chickweed and lamb's quarters are mild enough to let the mushroom flavor take center stage, but more strongly flavored greens, like orache and garlic mustard are also delicious. The important thing is that both greens and mushrooms be chopped very fine.
What You'll Need to Make Mini Mushroom Puffs:
1 cup finely chopped mushrooms
1 3/4 cups stock
1/2 stick butter
1 teaspoon salt, divided in half
1/4 teaspoon ground pepper
3/4 cup flour
1 1/4 teaspoons baking powder
4 eggs
2 Tablespoons finely chopped greens
What You'll Do to Make Mini Mushroom Puffs:

After you've chosen your mushrooms and your greens, it's time to decide which kind of stock you'll use. Chicken stock makes a golden-colored puff, while mushroom stock makes a darker puff with a stronger mushroom flavor. There is no wrong choice.
Preheat the oven to 400F.
In a saucepan, combine the chopped mushrooms and stock, and bring the liquid to a boil. Add the butter, 1/2 teaspoon of salt, and the pepper, then reduce the heat and simmer for five minutes, uncovered.
Remove the mushrooms from the heat and whisk in the flour, baking powder, and remaining 1/2 teaspoon of salt. Mix the ingredients together well.
Set the mushroom mixture aside to cool slightly before adding the eggs. Adding eggs to any hot liquid can cook them, causing the eggs to solidify in small lumps.
While the mushrooms are cooling, lightly whisk the eggs, then add them gradually to the cooled mushrooms, beating well to make a smooth batter. Next, fold in the greens.
Grease your mini muffin tin and put it in the preheated oven until the oil just begins to smoke. Watch carefully, as this can happen quickly. It's important that the muffin tin be smokin' hot. Spoon the batter into each muffin cup, leaving 1/4 – 1/2 inch of space at the top. Bake for 15 minutes or until the batter puffs up nicely. If you don't have a mini muffin tin, you can make regular sized muffins. Cooking time is the same for both sizes.
Mushroom puffs will be poufy when they first come out of the oven, but they quickly deflate as they cool. If you want to impress with presentation, serve them immediately. Fortunately, only their size, not their flavor, decreases with time.
Serve mushroom puffs for lunch with soup or salad, or for supper as a side dish. They even make a great breakfast after 30 seconds in the microwave, slathered with butter.