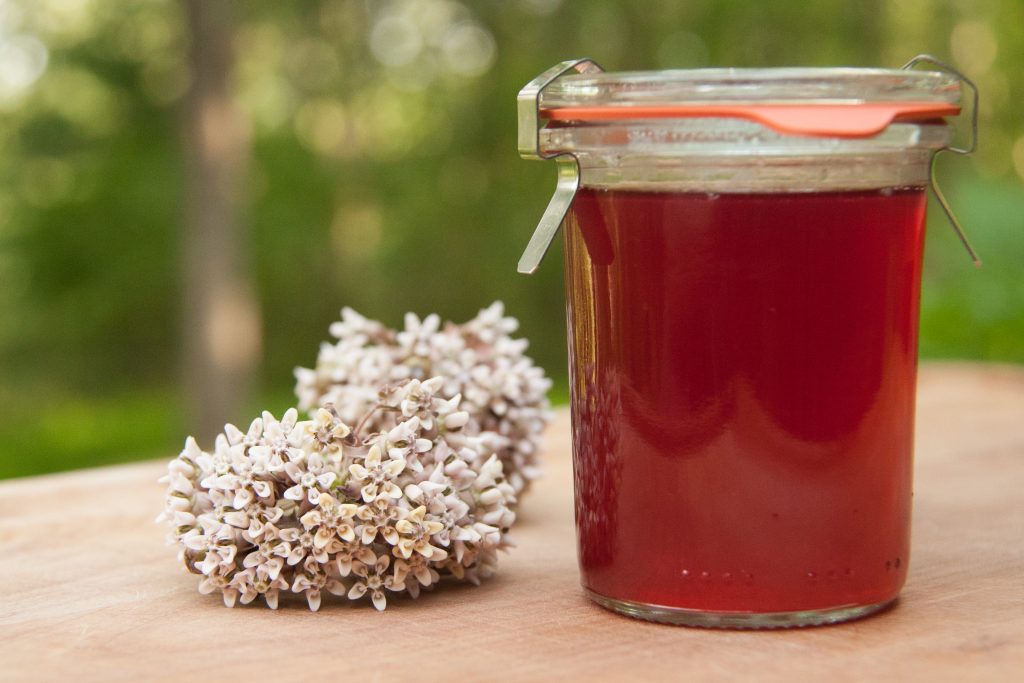 I went out this morning to see what came into season during the week I was gone. Imagine how thrilled I was to discover a new patch of milkweed in full bloom! Just an hour earlier, I'd read a question on FB asking if anyone had used the flowers to make jelly. Was it divine inspiration? Yes or no, I now have several lovely jars of milkweed flower jelly.
The milkweed flowers near me are a paler pink than others I've seen. I'm not a geneticist, but I'm guessing it's an inherited trait within an isolated population. Anyway, I wanted my milkweed flower jelly to be as pink as possible WITHOUT adding coloring, so I decided to really load up on the flowers. This is a reduced sugar recipe that calls for commercial powdered pectin. If you have a favorite jelly making method, once you've made the decoction (as described below), you can substitute your preferred jelly making process.
What You'll Need to Make Milkweed Flower Jelly
6 cups milkweed flowers
4 cups water
3 Tablespoons lemon juice
4 1/2 Tablespoons Ball Real Pectin
3 cups sugar
What You'll Do to Make Milkweed Flower Jelly
Individual milkweed flowers are held on slim stems that radiate from a single, thicker stem. This is called an umbel, and it's a gorgeous, big, round ball of flowers. Snip the individual flowers off the thick stem, and don't worry if the individual thin stems come along for the ride.
Transfer the flowers to a sauce pan and cover them with four cups of water. Like I said, I loaded up on the flowers because I wanted a nice, vibrant color. And as you can see…I got it!
Bring the water to a boil over medium – high heat, then reduce the heat to low and let the water simmer for five minutes. Remove the pan from the heat, cover the pan, and let the flowers steep for thirty minutes. Strain the flowers, thank them for their service, and throw them away.
Measure your milkweed flower decoction; you should have close to four cups. Combine it with the lemon juice in a clean sauce pan, then whisk in the powdered pectin, over high heat. Once the liquid has reached a boil that can't be stirred down, add the sugar, whisking to dissolve. When the liquid returns to a rolling boil, stir for 1 minute, then remove from the heat.
Skim off the foam, then pour into glass jars with lids, leaving 1/4″ headspace. This will keep as a refrigerator jelly for 3-4 weeks. For long term preservation, can the jelly in a boiling water bath for 10 minutes.
This gorgeous jelly is wonderful on crumpets, crackers, or butter cookies.