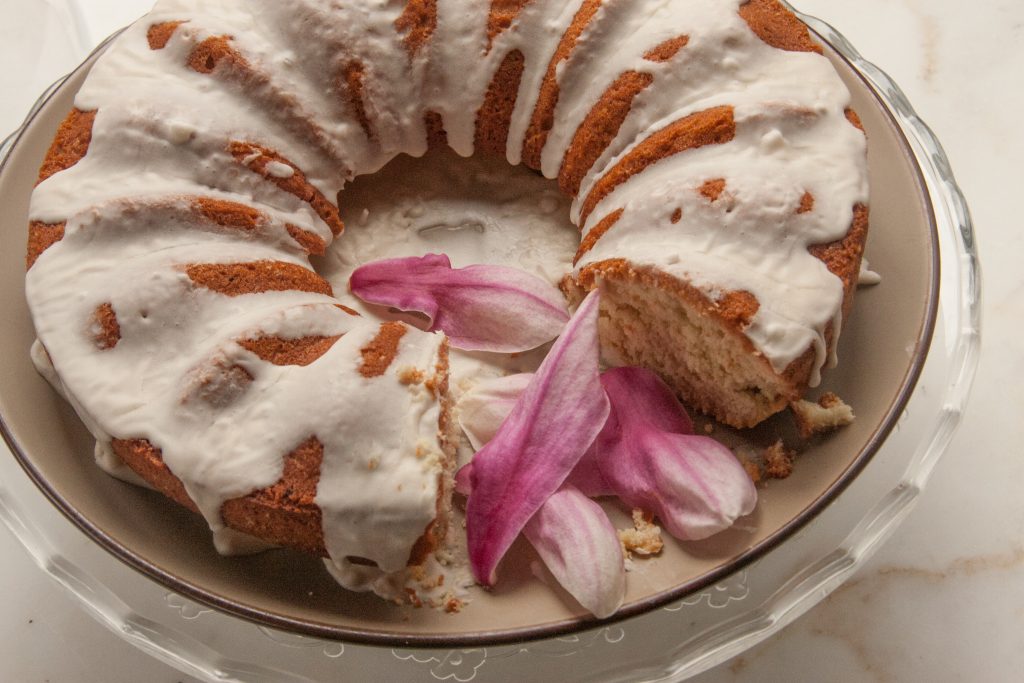 Magnolias are glorious. Period. When they're in bloom, they punctuate the landscape with gigantic bursts of color and fragrance, and some of these flowers are quite wonderfully delicious. This past weekend was a magnolia bonanza, and there will be LOTS OF recipes coming your way. But the very first (and yes, my favorite) is this Magnolia Blossom Cream Cake. It's a surprisingly simple recipe with a unique flavor that no one will be able to guess without a clue from the cook.
I use the petals of Magnolia × soulangeana, aka saucer magnolia. I haven't tasted every magnolia on the planet, but I've tasted every one I've encountered, and this is my favorite. It's also one of the most commonly grown varieties. Taste a petal raw, and you'll see what a unique flavor it has: tart, spicy, and indefinably delicious.
What You'll Need to Make Magnolia Blossom Cream Cake
2 cups cream
2 cups clean magnolia petals, roughly chopped
3/4 cup sugar
1 1/2 cups all purpose flour
2 tsp. baking powder
2 eggs, room temperature
confectioners' sugar
What You'll Do to Make Magnolia Blossom Cream Cake
Give your magnolia flowers a quick rinse, then roughly chop the whole flowers into pieces about an inch square. The pistils and stamens are just as flavorful as the petals.
In a heavy saucepan, combine the cream and magnolia flowers. Heat the liquid gently, whisking occasionally to avoid scorching. You don't want to boil the cream. When bubbles begin to appear around the edge of the saucepan, reduce the heat and simmer for 25 minutes. Then, strain the cream and throw away the flowers. You'll use this infused cream both in the cake and for the icing.
Preheat the oven to 350F and grease a small Bundt pan. This recipe is intended for a 3-cup Bundt pan, but if all you have is a full size pan, you can use that. Just note that the cake will be shorter and cook more quickly.
Combine the sugar, flour, and baking powder in a mixing bowl, and whisk to combine. Add 2/3 cup of the infused cream and the eggs, and whisk to remove all lumps.
Pour the batter into your greased pan, and bake until golden brown, when a toothpick inserted in the center of the cake comes out clean. In a full size pan, start checking at 30 minutes. In a 3-cup pan, start checking at 40 minutes.
Remove the cake from the oven and allow it to cool for 10 – 15 minutes before turning it out onto a plate.
While the cake cools, assemble your icing. Transfer the remainder of the infused cream to a small bowl, and add confectioners' sugar, one Tablespoon at a time, whisking after each addition, until it reaches the desired consistency. The icing should be liquid enough to pour onto the warm cake, but not so thin that it slides right off. Don't skimp on the icing! Because this is a simple cake, and because the icing is magnolia flavored, you want it in every bite.
Serve your magnolia blossom cream cake warm or at room temperature, for dessert, afternoon tea, or (dare I say it?) breakfast. You have officially captured the flavor of spring!