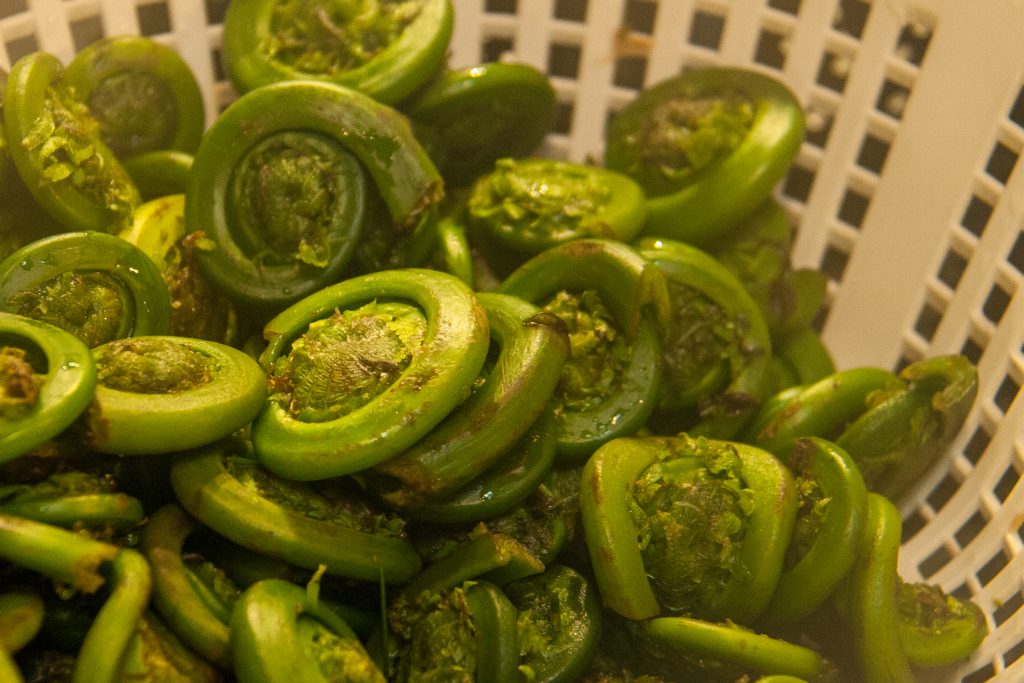 During that far-too-brief period of time when fiddlehead ferns are in season, I suggest you make the most of them. After all, you only have a couple of weeks, and then all that's left are dreams, memories, and a longing for crunchy green crosiers that won't be around for another 50 weeks. Fiddlehead farfalle is the perfect way to feature the fiddlehead!
Fiddleheads are easy to cook, and once they've been prepped you can add them to pasta, rice, or soups. Some people compare the flavor of fiddleheads to that of asparagus, but I think the texture and taste of fiddleheads are unique. This recipe for fiddlehead farfalle is simple and uncluttered. There's no need for heavy sauce or spicing when your key ingredient is so tasty and rare.
What You'll Need to Make Fiddlehead Farfalle
1 cup ostrich fern fiddleheads
6 ounces dry farfalle (or your favorite pasta shape)
2 tablespoons butter
1/4 cup onion, medium chopped
1 tablespoon fresh lemon zest
salt and pepper to taste
fresh parmesan cheese
What You'll Do to Make Fiddlehead Farfalle
Wash and trim your fiddleheads so that no more than an inch of the stem sticks out beyond the furled frond. Steam them for 10 minutes, then rinse in cold water to stop the cooking and set aside.
Grate one tablespoon of fresh lemon zest with a microplane or other fine grater and set aside.
Cook your pasta. I chose farfalle because I love alliteration, and fiddlehead farfalle sounds like fun. Fiddlehead fusilli would undoubtedly be equally satisfying.
Drain the pasta while it's still al dente and set aside.
In the pasta pan, melt the butter, add the onion, and cook it over medium heat. When the onion is translucent and soft (don't let it brown), add the cooked pasta, the steamed fiddleheads, salt, and pepper, and stir over low heat to thoroughly combine.
Remove the pasta from the heat and stir in the lemon zest. Taste and adjust seasoning if necessary.
Serve onto individual plates and top with fresh parmesan cheese.
Once you've tasted this simple preparation, feel free to play around with the recipe. Substitute goat cheese for parmesan, add some bacon or pancetta, or a few spring mushrooms. Keep the flavors simple and you won't be sorry. The fresh taste and mild crunch of the fiddlehead is the star of this show.