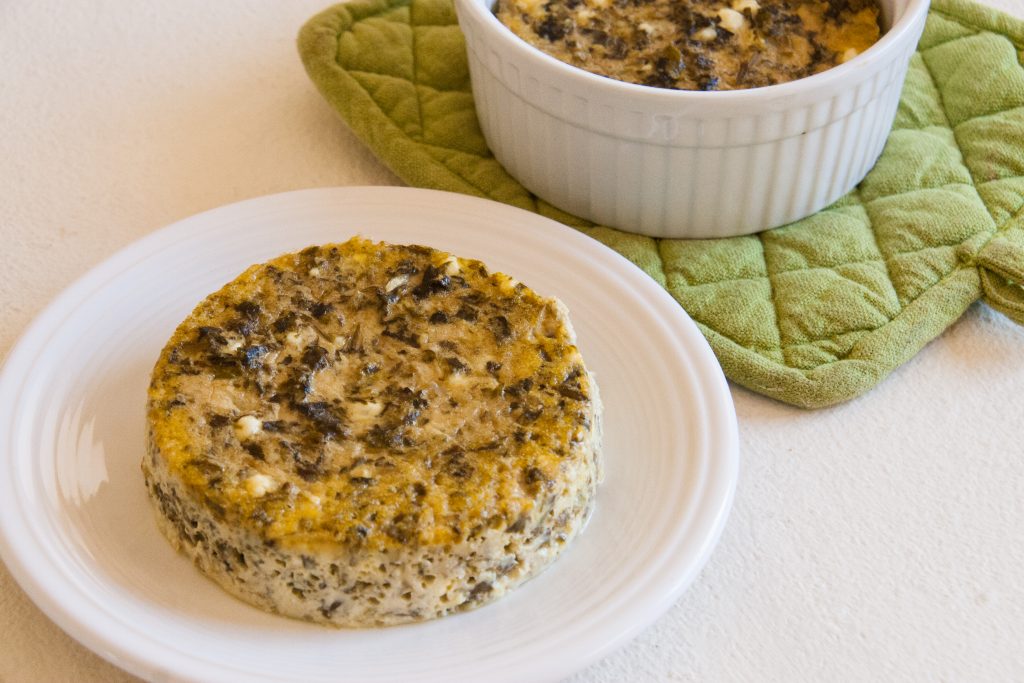 You may use any species of dock in this creamy dock custard recipe, as long as it's tender and tasty. Curly dock (Rumex crispus) is the most common dock in most parts of the country, but broad-leaved dock (R. obtusifolia) is also common and well-suited to this dish. Four to five cups of fresh dock leaves will cook down to the one cup of chopped greens needed for this recipe.
I use feta cheese because I almost always have it in the refrigerator (being Greek, it's a genetic obligation). But any number of cheeses would work well, as long as they're sharp and creamy.
What You'll Need to Make Creamy Dock Custard
1 Tablespoon olive oil
1 cup blanched, chopped dock greens
1/2 onion
1 cup heavy cream
3 eggs
1/4 cup crumbled feta cheese (or 1/2 if you're a serious cheese-a-holic)
salt & pepper
What You'll Do to Make Creamy Dock Custard
Preheat your oven to 350F.
If you're working with fresh dock, blanch whole leaves for a minute in boiling water. You can also wilt the leaves in a microwave by cooking them at 30 second intervals until they have fully wilted. Once the greens are cooked, shock them to stop the cooking, then chop them into pieces not more than 1/2 inch long. If you're working with frozen dock, thaw it, then squeeze the greens to remove excess liquid and chop them into pieces about 1/2 inch long.
In a saucepan, heat the olive oil and sauté the onion over medium heat until it becomes translucent, not browned. This should take about five minutes. Add the dock greens and stir to combine. While the vegetables cook, beat the eggs well in a separate bowl and set them aside.
When the dock and onions are fully combined and softened, reduce the heat to medium-low and add the cream to the vegetables. Stir well to combine, and thoroughly heat the mixture. You don't want to boil the cream, just warm it. Add one teaspoon of salt and 1/2 teaspoon of pepper, then taste and adjust as needed.
Remove the warmed cream and vegetables from the heat and slowly stir them into the beaten eggs. Add the crumbled cheese and stir the entire mixture together.
Pour the mixture into buttered ramekins and place the ramekins in a roasting pan. Pour water into the roasting pan until it reaches halfway up the sides of the ramekins. This recipe makes approximately three cups of batter. I have one cup ramekins so this recipe makes three custards for me.
If your ramekins are smaller, you'll be able to make more, smaller custards. Smaller custards may finish cooking more quickly than larger custards, so adjust accordingly.
Bake the custards for 30 – 40 minutes, depending on the size of the ramekins. If yours are smaller than 3/4 cup, start checking for doneness after 20 – 25 minutes. The custards are done when a knife inserted into the middle comes out clean and the tops of the custards are just starting to look golden brown.
Serve the custards warm and savor every mouthful; this is a simple but lovely dish. It can be eaten straight from the ramekin, or turned out onto a plate. If by some remarkable chance you have leftovers, the custards are just as delicious the next day, warmed in the microwave.