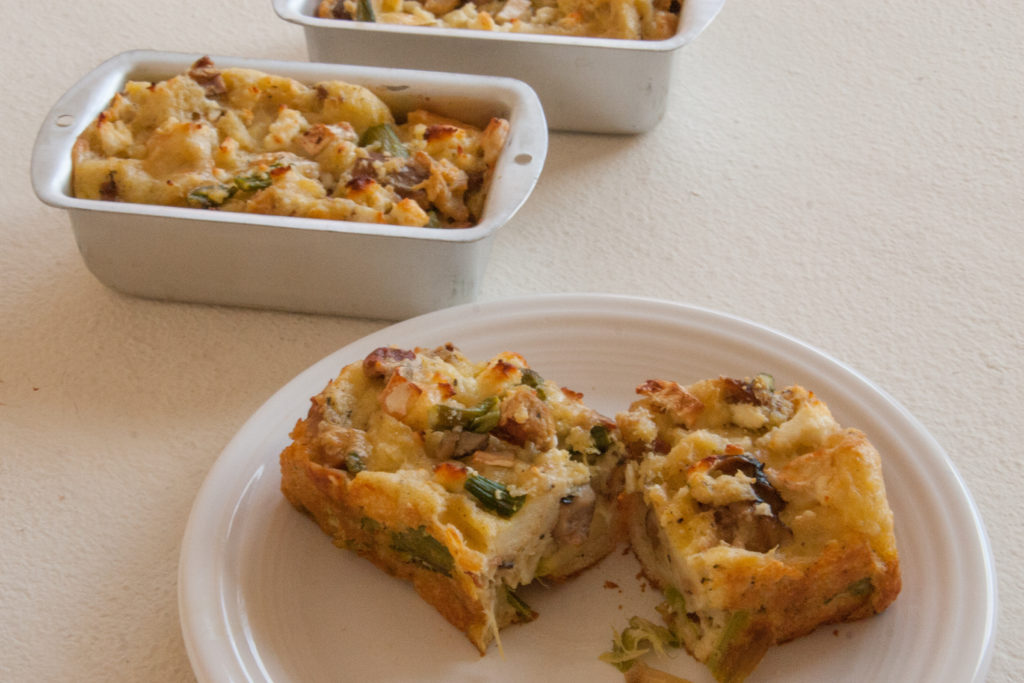 I'm especially fond of recipes that let you use up lots of odds and ends from the refrigerator, and this is one of those recipes. It's also delicious, easy to make, and freezes like a dream: asparagus and mushroom bread pudding.
Feel free to substitute any kind of mushroom or wild green you have lying around (and if you're a forager, there will always be something lying around), as well as pretty much any cheese or bread. Think of this recipe as a blueprint and fill in the details to suit your personal taste. I often combine wild asparagus and morels, since both are delicious, abundant, and in season in the Rocky Mountains in spring.
What You'll Need to Make Asparagus and Mushroom Bread Pudding
a loaf of Italian or French bread, slightly stale
3 cups milk
2 Tablespoons roughly chopped garlic
2 cups roughly chopped wild mushrooms
3 Tablespoons butter
2 cups asparagus, cut into half inch pieces
4 eggs
1 Tablespoon dried tarragon
salt & pepper
2 cups crumbled cheese
What You'll Do to Make Asparagus and Mushroom Bread Pudding
Preheat the oven to 350F. This recipe will fill one 9 x 12 baking dish, three 9 x 5 loaf pans, or many mini, 2 x 4 loaf pans. Butter your pan(s) and set them aside.
It's important to use stale bread in this recipe or the end consistency will be mushy. If you don't have stale bread, leave a loaf out on the counter over night, or tear the bread into rough chunks and toast them lightly (if you can't wait overnight). Cut or tear the stale (or toasted) bread into chunks about an inch in diameter and put them in a large mixing bowl. Set the bowl aside.
Combine the garlic and milk in a saucepan and heat until it just begins to simmer. Remove the pan from the heat, cover, and let it sit for 30 minutes.
While the milk infuses, melt one Tablespoon of the butter and sauté the mushrooms. Sprinkle them with salt and pepper and cook until the mushrooms give up all their liquid. Turn off the heat and set the mushrooms aside. If you already have cooked mushrooms left over, you can skip this step.
Barely blanch the asparagus in boiling water, just until it turns bright green, then dunk it into cold water to stop the cooking. You can also accomplish this in the microwave, heating on high for approximately 30 seconds.
Strain the milk off the garlic and throw the garlic away. Pour the milk over the bread chunks, stirring to cover all the bread. It will absorb the milk quickly.
Beat the eggs, and add the tarragon, a teaspoon salt and 1/2 teaspoon pepper. Add this to the bread, along with the asparagus, mushrooms, and 1 1/2 cups of cheese. Stir to combine all the ingredients, then transfer the mixture into your buttered baking pans. Dot with two Tablespoons of butter and sprinkle with the last half cup of crumbled cheese.
Bake until the bread is golden brown and puffy; this should take about 50 minutes for a single large pan. Smaller pans will take less time; start checking for doneness after about 35 minutes. Mini pans may be done in as little as 25 minutes. Serve the bread pudding warm, as a main course or side dish. I often make a double recipe and freeze one bread pudding for a night when I don't feel like cooking.