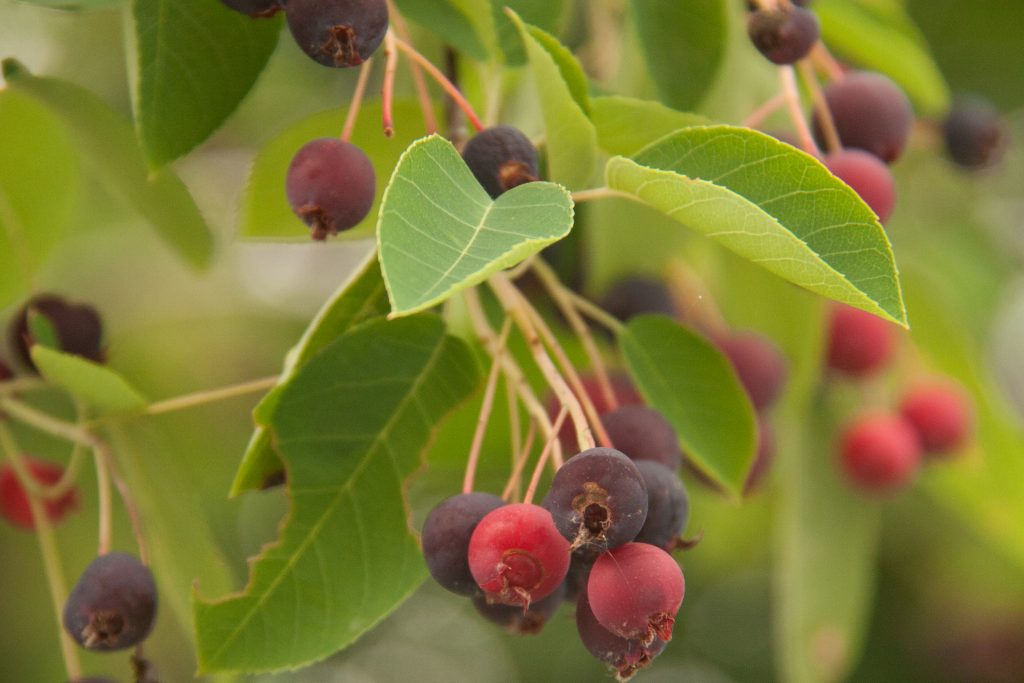 Maybe it's the name.
Amelanchier is tricky to pronounce if you've never heard it said out loud: am-eh-lan-kee-er. So let's call it Serviceberry or Saskatoon or Shadblow or Juneberry…this plant has no shortage of common names! Whatever you call it, the fruit is delicious. Slightly larger than a blueberry, it tastes like a mashup of strawberry, blueberry, and just a touch of almond.
If you don't mid my getting all plant-geeky for a minute, I'd like to circle back to all those common names.
-Amelanchier is sometimes called Juneberry because in some parts of the country (like the part where somebody named it Juneberry) the berries ripen in June.
-It's called Shadblow because its flowers tell you when the shad are running and at their most delicious. Blow is derived from the Old English word meaning to bloom.
-In western North America it's known as Saskatoon, from the Cree name for the plant. (The Canadian city was named after the plant.)
-The name Serviceberry is often explained by the story that in colonial America, Amelanchier flowers signaled when the ground had thawed enough to bury everyone who died over the winter (funeral service, get it?). But since that common name actually predates colonial America, the explanation doesn't hold up. Still, I like the name.
Serviceberry comes in both tree and shrub (multi-trunk) forms, and is often used in home landscapes, both for its early, white spring flowers, and its outstanding, orange fall foliage. In nature they grow in full to part sun (more sun produces more flowers and fruit), and many different soil types. These are highly adaptable plants and they'll tolerate some shade and drought, although the fruit crop will be diminished by both. They even grow well in large rooftop containers! People appreciate Amelanchier as a landscape plant, but very few taste the fruit. They don't know what they're missing.
How to Use Serviceberry:
Unfortunately, I've seen many people make the mistake of harvesting Amelanchier fruit while it's still red. Red berries are certainly edible, but they are not fully ripe. Berries are at their best when they ripen to a dark, purple-blue. At this stage they are sweet, plump, and juicy. The fruit ripens gradually, over a period of weeks, so this will be a graduated harvest. Pick only the darkest, ripest fruit, then go back and repeat your harvest every few days, until all the berries are gone. The fruit is plentiful and seeds germinate easily. Any fruit you miss has a good chance of producing seedlings the following year.
In western Canada, Saskatoons (A. alnifolia, the western native) are being commercially grown and touted as a superfood, packed with nutrients and antioxidants. Studies show the berries to be higher than blueberries in vitamin C, fiber, iron, and protein.
Serviceberry fruit is delicious straight from the tree and can be used any way you'd use blueberries: smoothies, cobblers, pies, muffins, pancakes, jellies, jams, and ice cream. And don't forget sorbet, pudding, wine, fruit leather, or syrup. Native Americans traditionally used the berries in pemmican, which is one of the few applications I haven't tried…yet.
This low-maintenance, perennial crop deserves your appreciation. It's easy to harvest in large quantities, it has excellent flavor, and the plant is beautiful. Promise me you'll look for it next June!