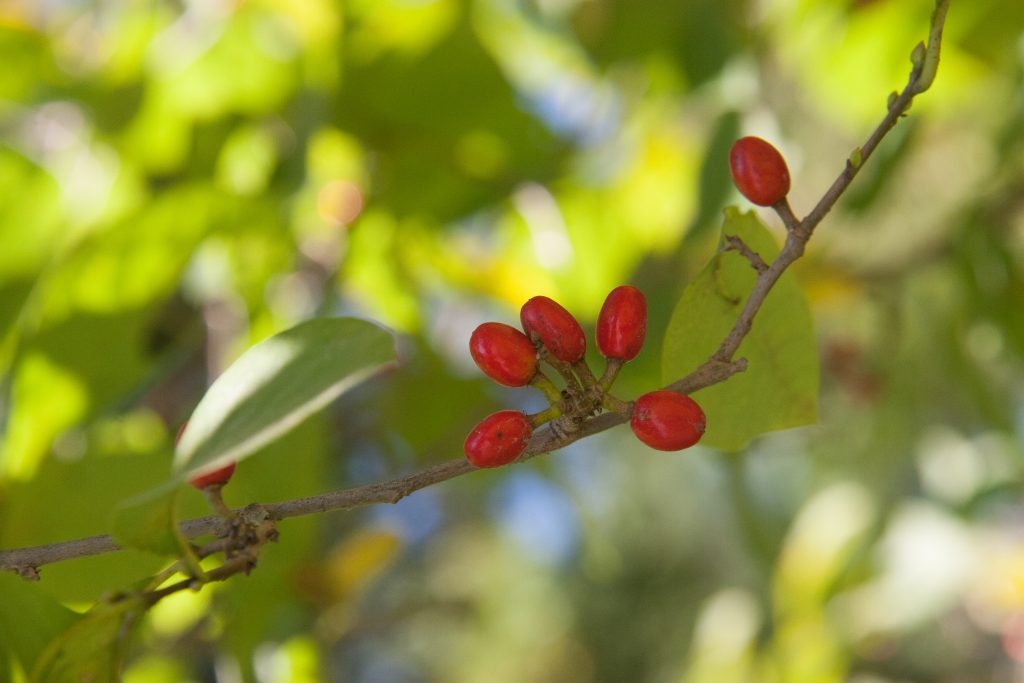 I just got back from a recon hike, checking on the wineberries (not quite ready), wood nettles (past their prime), and bee balm (perfect) and I was happy to discover a new stand of spicebush, aka Lindera benzoin, to add to my mental map. I've come to depend on spicebush berries in so many recipes. I'd feel culinarily lost if I didn't know I had dried spicebush berries in the freezer.
Spicebush is a medium-sized shrub, native to most of eastern North America. Some astute gardeners use it as an ornamental. They appreciate its delicate, yellow spring flowers (which open when the skunk cabbage starts coming up) and bright yellow fall foliage. But very few realize that the pretty red fruit is an outstanding spice that brightens up both sweet and savory dishes.
In nature, spicebush is an understory plant. It grows best in part shade, and you'll find it under beeches, oaks, and maples. It's an excellent, low maintenance plant for a permaculture garden, but if you're going to plant it, we should probably talk about sex. Like holly, spicebush is a dioecious shrub, which means male and female flowers are borne on separate plants. Both produce attractive flowers and fall foliage, but only the females have edible berries. If fruit is your goal (and if you're reading this, it probably is), buy your shrubs in fall, when berries will be evident and you can tell who is who. You'll need only one male for pollination (it can pollinate several females), but stock up on the lady plants.
How to Use Spicebush
Spicebush tea can be made from fresh or dried leaves and twigs. It has a mild, chai flavor that is pleasant hot or iced. Notice I said pleasant. That's my polite way of saying meh. It's perfectly nice, but nothing to write home about.
Spicebush berries, on the other hand, will knock your frickin' socks off. I cannot praise the flavor highly enough. I've heard people describe it as tasting like a mix of allspice and pepper, but to me, the flavor defies description. It's spicy, complex, dark, has a little heat, and there's something floral in there, too. Try it for yourself and see.
Pick the berries as soon as they turn red. The exact dates will vary with your location, but they generally ripen in early fall, and stay on the plant for several months. As long as the fruit is red, it's good to harvest.
Fresh berries can be stored in the refrigerator for up to a week but I prefer to use mine dried. This does two things: concentrates the flavor and prolongs their shelf life. I dehydrate the fruit, then keep it in the freezer. I store the berries whole until I'm ready to use them.
Spicebush berries are wonderful with apples and pears in cobblers and pies; I rarely use cinnamon and nutmeg any more. Two of my favorite dessert recipes for spicebush are spicebush macarons and acorn baklava with spicebush berries.
A spicebush dry rub is great with chicken or pork. Spicebush dram is a superior liqueur. Spicebush ice cream is superb on its own and even better with pumpkin pie. Ground spicebush berries and sugar make the perfect rim for a frozen persimmon margarita. And spicebush snickerdoodle cookies are deliciously hard to describe.
If you can't forage for spicebush berries near you, you can order it online from Integration Acres. They call it Appalachian Allspice, and once you taste it, you're going to want more!