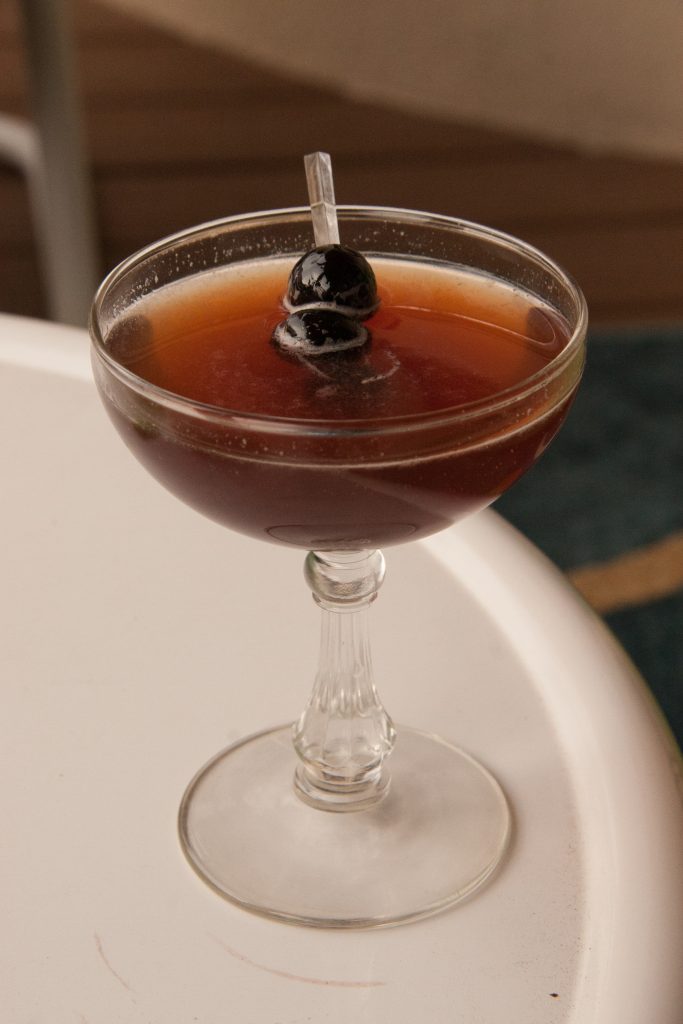 What exactly is a bounce? Rumor has it that cherry bounce was one of George Washington's favorite tipples, and Martha's recipe for the beverage survives to this day. In this foraged version, I've substituted chokecherries for cultivated cherries, and rye for the more traditional brandy. And while many bounce recipes are heavily spiced with cloves, cinnamon, and nutmeg, I've kept it simple with just three ingredients. Once you've made the base infusion, you can enjoy it any way you'd like: poured over a single large ice cube, sipped neat from a coupe, combined with a sploosh of seltzer, or garnished with a few Luxardo cherries. Any way you drink it, Chokecherry Bounce is an exceptional adult beverage.
What You'll Need to Make Chokecherry Bounce:
3 cups chokecherries, de-stemmed
2 cups straight rye
1 cup sugar
What You'll Do to Make Chokecherry Bounce:
Combine the chokecherries and sugar in a saucepan, and bring them to a simmer. Reduce the heat and keep the fruit just barely simmering, then allow it to cook for 20 minutes, stirring regularly to prevent scorching. Remove the fruit from the heat and allow it to cool.
Transfer the cooled fruit and all its accompanying juices into a half gallon jar, then add the rye whiskey. Cover the jar tightly and give it a good shake, then put it somewhere in your kitchen or pantry where you'll see it often enough to shake the jar a few times/week, but not so often that you'll be tempted to drink it prematurely.
Because here comes the hard part: wait three months before drinking your chokecherry bounce. This beverage needs time to fully develop its flavors. I admit, I opened my jar several times to smell the deliciousness, and I may have tested its progress with a sip or two, but please resist temptation to pour yourself a glass until the three months are up. It's worth the wait.
I like my chokecherry bounce straight up, after a quick shake over ice, but if you prefer a lighter cocktail, top yours off with seltzer to taste.
Two or three Luxardo cherries is the perfect garnish, and now get ready for a brief rant. I highly encourage you to use Luxardo cherries, rather than the ridiculously artificial "maraschino" cherries most of us are familiar with. The bright red abominations I grew up with are NOT true marasca cherries. They are ordinary sweet cherries, bleached in sulfur dioxide and calcium chloride to remove all flavor and color, then soaked in artificial dyes, high fructose corn syrup, and artificial flavors. Sounds yummy, right? If you're going to go to all the trouble of making your own chokecherry bounce, please don't use the artificial cherries. And if you do, don't tell me about it. End rant.
And cheers.