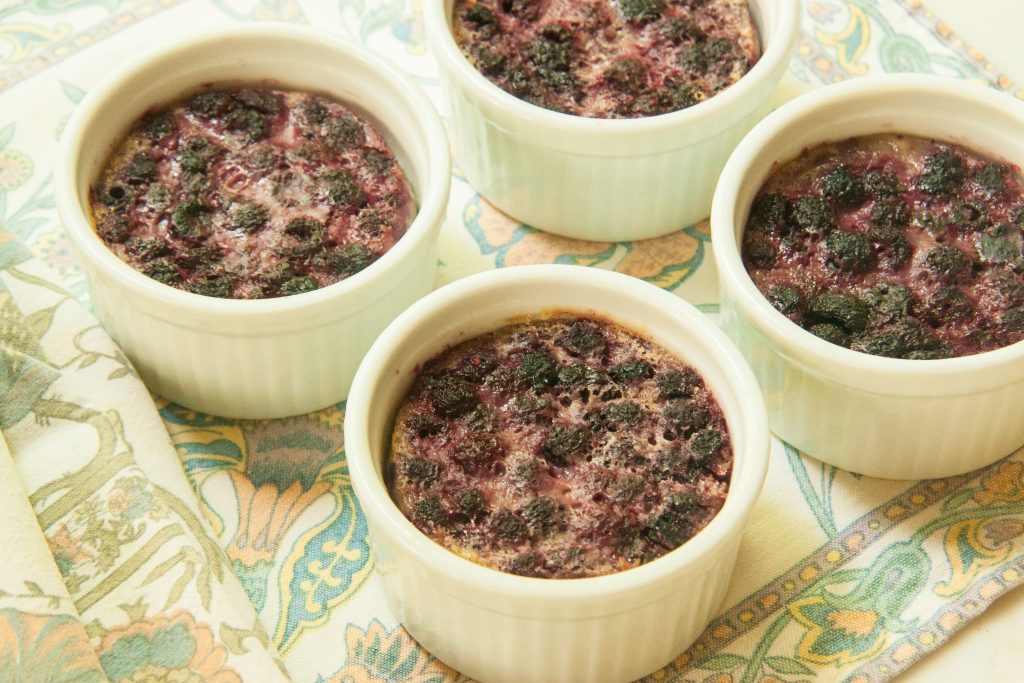 The black raspberries are coming in strong! Crazy strong. So strong there's no need to ration this delicious fruit. I can eat it every day if I want to, and still have plenty to dip into next winter when fresh foraged fruit isn't a possibility. Which means I'm experimenting with a whole bunch of recipes, and this black raspberry pudding cake is number one on the runway. It's not too sweet, very fruity, and has the consistency of a thick clafouti. Breakfast, lunch, dinner, and in between…it's low sugar, low fat, and comes together quickly and easily.
This recipe cooks in a bain marie. The gentle heat and steam provided by the water give you a firm, and very moist, result. It's got a finer texture than a steamed pudding, but isn't too heavy or dense. (Can you tell I've been binge watching TGBBS?) You can substitute other bramble berries for the black razz; blueberries and cherries would also work. But right now, for me, it's all about the black raspberry.
What You'll Need to Make Black Raspberry Pudding Cake
2 eggs
1/4 cup sugar
1 tsp. pure vanilla extract
pinch of salt
1 cup skim milk (or your preferred substitute!)
1/2 cup all-purpose flour
1/2 tsp. baking powder
2 cups black raspberries
confectioner's sugar (optional)
What You'll Do to Make Black Raspberry Pudding Cake
Preheat your oven to 400F and grease six 4-ounce ramekins.
In a mixing bowl combine eggs, sugar, vanilla, and salt, using a hand mixer to beat until the batter is light and airy.
Add the milk and continue to beat.
Add the flour and baking powder, and incorporate with a hand whisk until smooth, then set the bowl aside. The batter will be liquid, similar to pancake batter.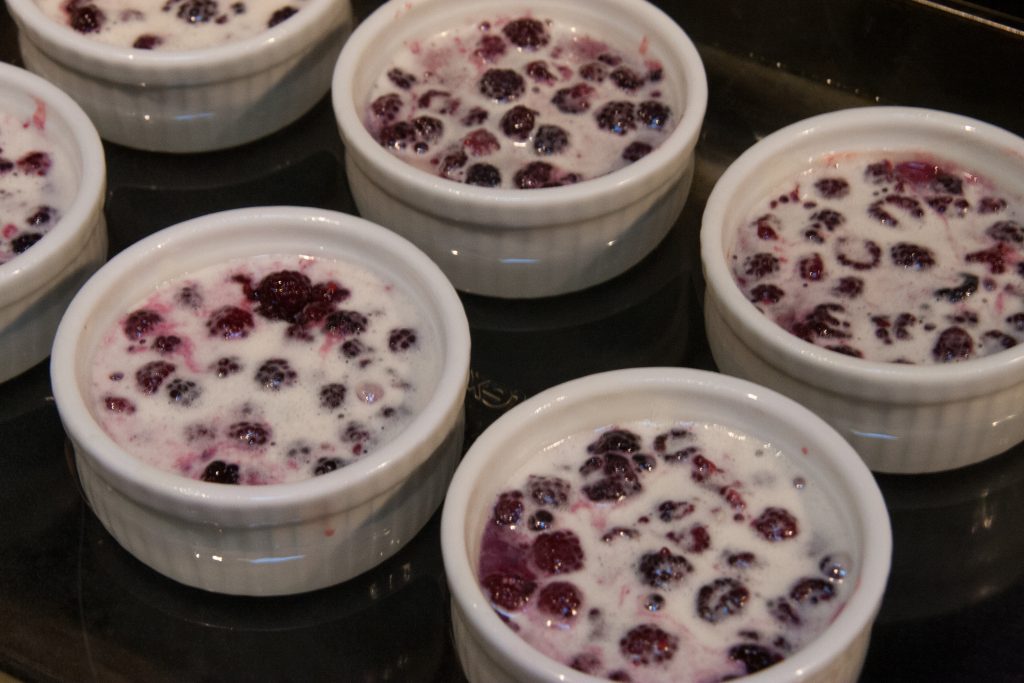 Divide your black raspberries evenly among the six ramekins, then pour the batter over the fruit. You should have about a half inch of space between the batter and the rim of your ramekin.
Place the filled ramekins in a large baking dish, then fill the dish with water that reaches about half way up the sides of the ramekin.
Bake for 30 minutes, or until a knife inserted in the center of the dish comes out clean. The puddings will be slightly puffy when they first come out of the oven, but they collapse a little as they cool.
You may sprinkle the tops with a little confectioner's sugar (to make it look pretty) but try a bite without it first. I think you'll love how the fruit stands out, not overwhelmed by too much added sugar. And yes, I really did have this for breakfast.