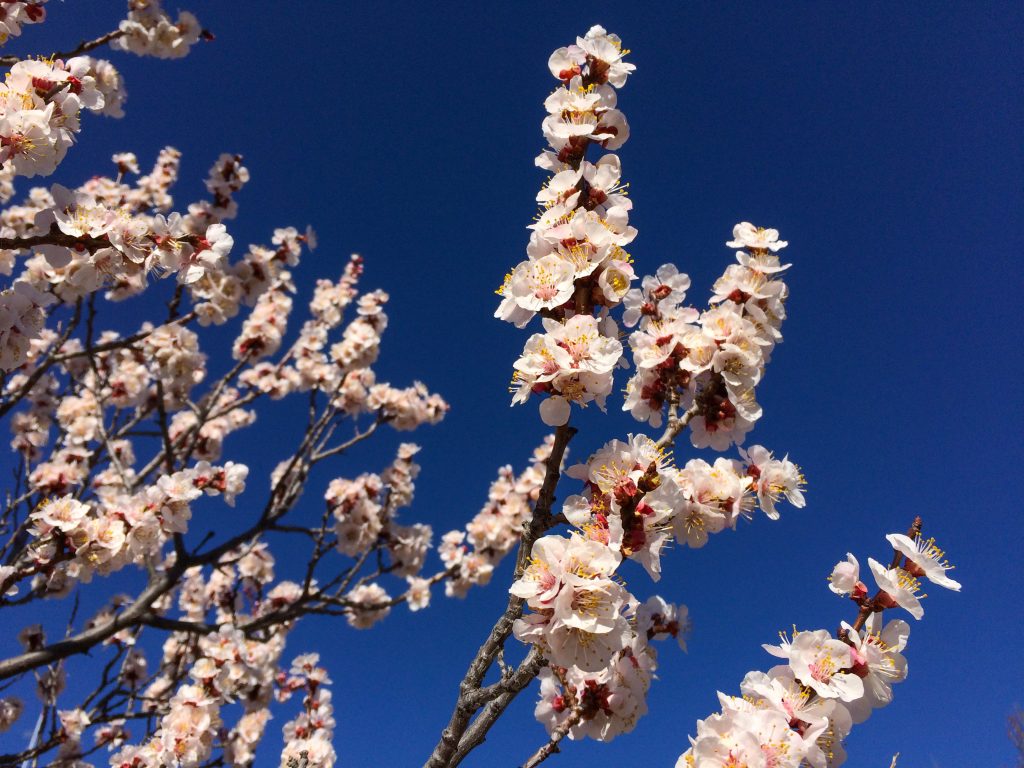 Two years ago I went to Denver to forage with my theretofore e-friend Butter Wilde. (I'm notorious for inviting myself to visit people, so beware.) On a rainy afternoon, we were distracted from our morel hunting by the scent of plum blossoms. It was so intense I knew it had to be captured in a cocktail.
Since this was a spontaneous creation, I was less than perfectly prepared. We picked up some vodka, jammed the plum flowers into a mason jar, covered the flowers with vodka, and hoped for the best. Two days later, when I got home and strained the flowers out of the vodka, the perfume of plum blossom was strong and seductive. I combined it with simple syrup and made a down and dirty plum blossom liqueur. I've refined the recipe since then, infusing the sugar for the simple syrup with plum blossoms to double down on the floral flavor.
This year spring came early to Santa Fe. Last Saturday's bike ride took me past numerous plum trees, both cultivated and feral. These weren't shrubs, like the ditch plums we found in Denver, but the flowers were equally fragrant.
Those fragrant blossoms are now on their way to becoming one of my favorite seasonal beverages.
What You'll Need to Make Plum Blossom Liqueur
4 cups plum blossoms
2 cups sugar
2 cups vodka
2 cups water
What You'll Do to Make Plum Blossom Liquer
Split the plum blossoms into two groups of two cups each.
In a mason jar, combine two cups of flowers with two cups of vodka. Cover the jar and shake, then store it out of direct sun.
In a plastic container, combine two cups of flowers with two cups of sugar. Stir well to combine, then cover the container and let it sit for two days.
After 48 hours, the sugar should smell strongly of plum blossoms. Transfer the mixture to a saucepan, add two cups of water, and stir, over low heat, until the sugar has completely dissolved. Remove the pan from the heat, cover the pan, and let it sit for 24 hours.
Strain the flowers from the simple syrup. Measure the syrup and set it aside. Strain the flowers from the vodka (which may now be a lovely shade of pink, depending on the color of the flowers). Measure the vodka and set it aside.
Thank the flowers for their service and throw them away.
Combine equal parts vodka and syrup, and voila! Pour yourself a small glass over a single cube of ice and enjoy the taste of spring.