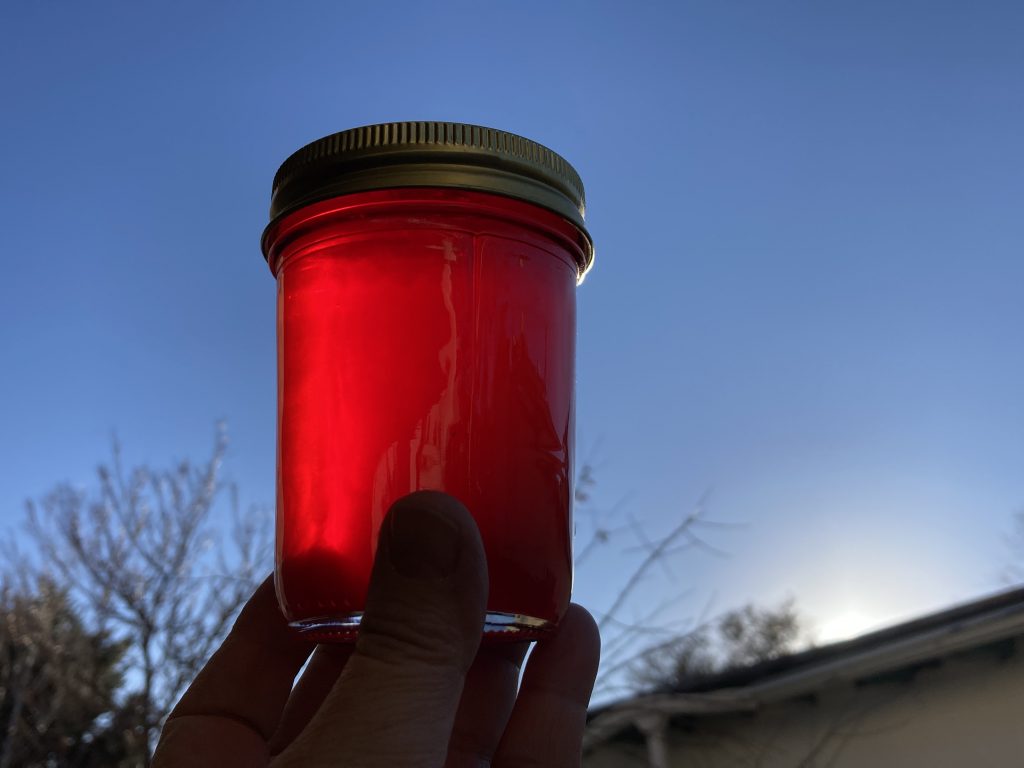 Is it just me?
I'm an accomplished jelly maker. I've been doing it for years. I've taught Master Food Preservers how to do it. I've done it professionally. But every time I make a jelly without commercial pectin, I worry. Anyone can get a good jell with commercial pectin if they follow instructions, but it's a whole lot trickier when you rely on the natural pectin in the fruit you're preserving.
If making jelly with commercial pectin is so easy, why not do it all the time?
1. If you don't use it, you lose it. Being able to get a perfect jell without using commercial pectin is a skill I want to maintain. This isn't possible with all fruits, but with a high pectin fruit like crabapples, it is.
2. Commercial pectin requires extra sugar to temper its bitterness. I'd rather not use more sugar if I don't have to because I think the flavor of the fruit shines with less sugar.
3. Sure, you could try a low/no sugar pectin, but the low/no sugar pectins I've tried don't produce the crystal clear jewel tones I want in a jelly. I mean, come on! Look at that color!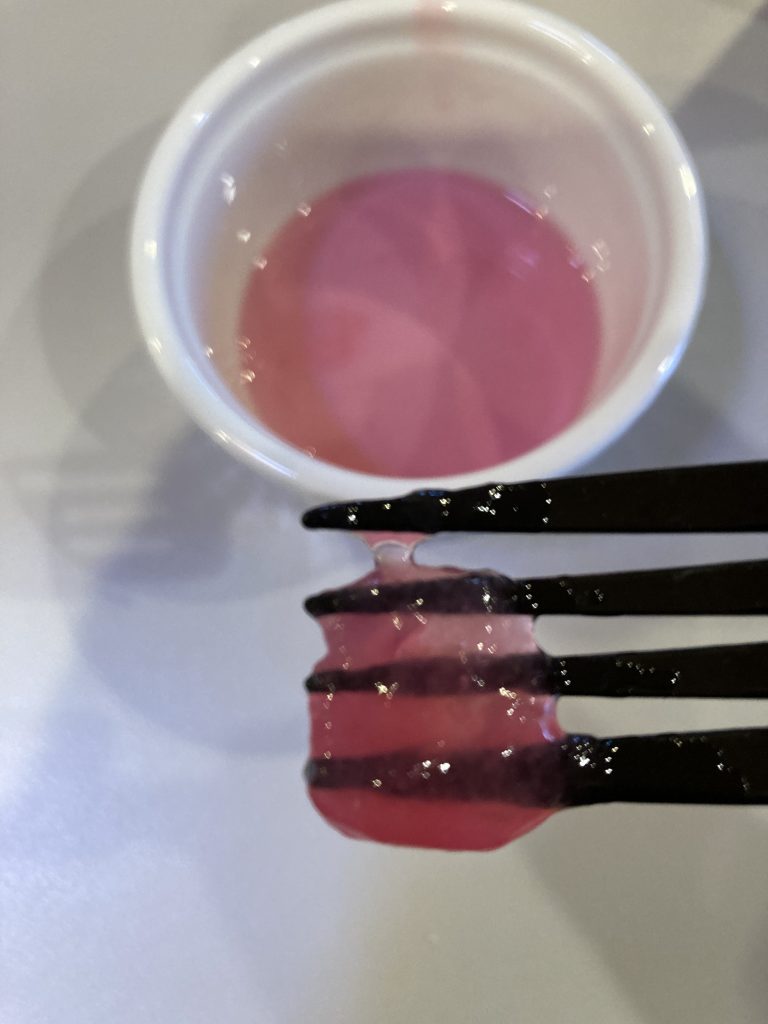 So in an effort to assuage my worries, I tried an experiment. To test whether my crabapple juice had enough natural pectin to jell on its own, I combined one Tablespoon of rubbing alcohol with one teaspoon of juice, gave it a few good shakes, and let it sit for a minute or two. I had read that if the juice formed a blob that's easy to lift with a fork, it's got enough natural pectin for jelly. Hooray!
(The blob is not edible. Throw it away.)
This was a banner year for crabapples and the Dolgo in my back yard was extraordinarily generous. Its fruit is big and red and delicious and I wanted to try something that made the most of its flavor and color, but that was also a little bit different. Living in New Mexico of course my thoughts immediately went to chile peppers, and I pulled down the jar of dried chile pequins that I foraged pre-pandemic when I was teaching in Florida.
Chile pequins are hot little bastards, and I mean that in the best possible way. They're very small, but they make their presence known! They're rated at 30,000 – 60,000 Scoville units. To put that in perspective, jalapenos are generally rated at 3,000 – 8,000 Scoville units.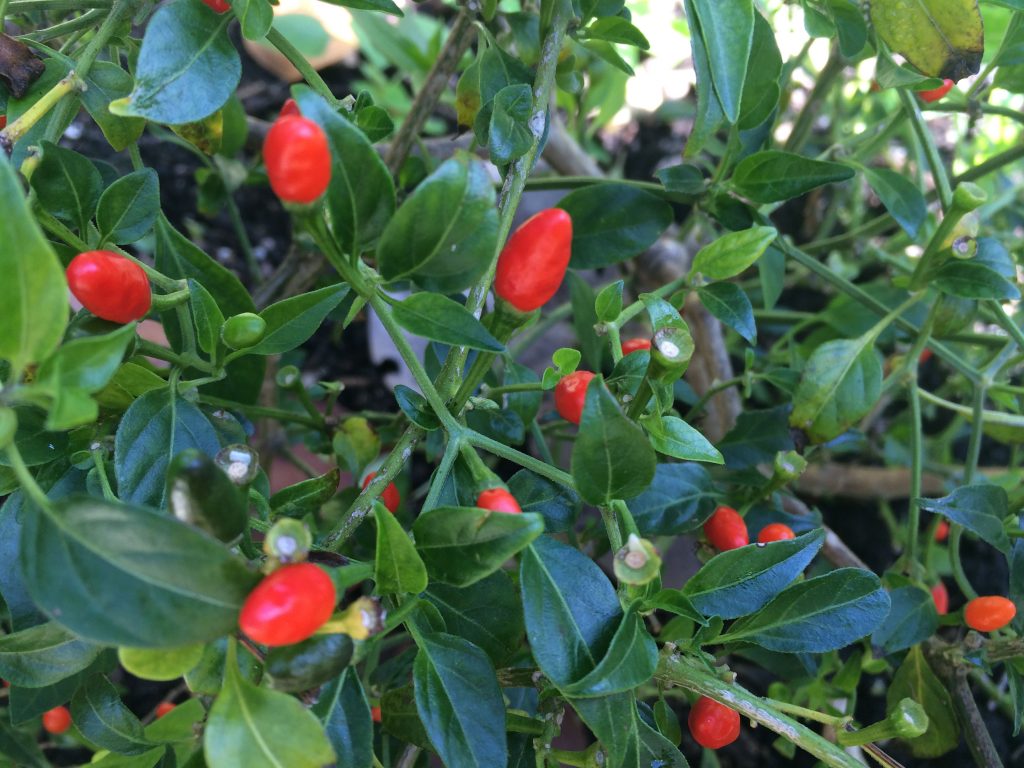 I'm thrilled with how the jelly turned out: ruby red and crystal clear, strong crabapple flavor with just enough heat. Of course I may like my jelly a little spicier than you like yours, so you'll have to play around with the proportions. The amounts below will give you a definitely spicy but not over-the-top jelly. Seems like a good place to start.
What you need to make crabapple – chile pequin jelly
12 cups crabapples (Dolgo if you've got 'em), washed but not de-stemmed or de-seeded
2 Tbs. dried, roughly crushed chile pequin
2.25 cups sugar
water
What you DO to make crabapple – chile pequin jelly
In a large pot combine the crabapples and chiles with just enough water to cover. Bring to a boil, reduce the heat, and simmer until the fruit is soft enough to mash with a potato masher. Mash it. This step shouldn't take more than about 20 minutes. You don't want to overcook the juice; that can destroy the natural pectin.
Strain the juice through a jelly bag and measure. This will take a few hours. You should end up with about three cups of juice. If you have more or less, adjust the other ingredients proportionately. Do not use more than six cups per batch of jelly. Why? Because a larger batch requires longer cooking and that can mess with the finicky pectin bond.
Transfer the juice to a shallow pan, add the sugar, and bring the mixture to a boil, stirring regularly. You'll notice foam coming to the top of the jelly, and you should remove this at the end, before you transfer your jelly into jars. The foam won't hurt you, but it's lumpy and white and detracts from the gorgeous jewel tone we jelly-makers are after.
When the bubbles on the jelly's surface look small and regular, start testing for the jelling point. There are several ways to do this, but I find the most reliable way to be the "two drops into one" method. Using a large metal spoon, scoop up some jelly and hold the bowl of the spoon at a 90 degree angle over your pan. When the last two drops of jelly merge to form a single drop and slide off the spoon in a sheet, you have reached the jelling point.
Turn off the heat, skim off the foam, transfer the jelly into canning jars leaving 1/4 inch headspace, and process in a boiling water bath. If you've sterilized your jars in advance your base time for this is five minutes. If you haven't sterilized your jars, the base time for the boiling water bath is ten minutes. These base times are for people canning at sea level. If you want to learn more about how to adjust for higher altitudes, check out this article written by my friend Leda, who, coincidentally, taught me how to make crabapple jelly more years ago than I can remember.
Crabapple – chile pequin jelly makes an excellent glaze for chicken, pork, or salmon. It's also great with a sharp cheese on a cracker, or baked with brie. And it will take your PB&J to a whole 'nother level.